Flying to the rising sun
To celebrate the 30th anniversary of the famous Made In Japan shows, we've collected a few interesting artifacts from Deep Purple's Japanese shows in the 1970s.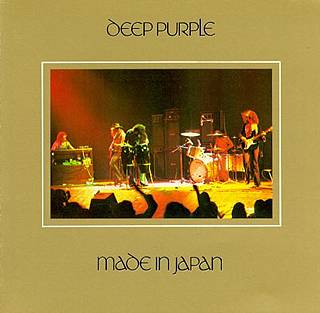 "Made In Japan" (front cover)
Instead of me rambling on endlessly here about stuff you already know - or can find presented much better in the Live In Japan 3CD set - please have a look at the photos and original tickets from the time.
Occasionally The Highway Star is asked whether the Made In Japan shows were filmed. Fans sometimes mistake the Scandinavian Nights footage (from KB Hallen, Copenhagen, Denmark March 1, 1972) for being from Japan. As far as anyone has been able to ascertain so far, none of Deep Purple's 1972 shows in Japan were filmed. Sadly.
These three shows represent some of the very best Deep Purple ever has been onstage. Indeed, Ian Paice has often gone on record stating Made In Japan is his favourite Deep Purple album. And for a good reason too. His performance and playing at these shows is blisteringly precise. So much so that the Live In Japan 3CD set was mixed to favour the drums. While not an idea that actually enhances general listening pleasure, it's a well-earned feather in Paicey's cap.
To round off this special, we have added materials from all of Deep Purple's visits to Japan between 1972 and 1975. If you have anything to add, please get in touch!
Additional tourdates information, etc. courtesy of:
- Mash's website of tourdates and bootlegs
- Nigel Young's website of past tourdates
- Midori Natsukawa is a writer and contributes to the Japanese website, '70s Rock Rare Pics, full of rare live & offstage photos of various rock bands' visits to Japan in the 1970s.
- Japanese The Way of Ritchie Blackmore website
Thanks to Akiko Hada for collecting and presenting the (non-album) graphics presented here.
If you have anything to add to this special, please get in touch with Rasmus Heide, Specials Editor