General
Top
Pics
Tour Dates
Remembering the tour
Reviews
Doug McBeath
Vince Palamara
Mark Franzman
Clips
Live and Rehearsals
Buy it!
Amazon.co.uk
DVD
UK CD
US Import CD
Amazon.com
CD
Home:
Special features menu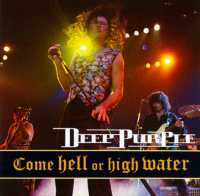 BMG 2001

Multi-region/PAL and NTSC DVD, Dolby Digital Stereo and Dolby 5.1 Audio

Tracks
Highway Star
Black Night
Talk About Love
Twist In The Tale
Perfect Strangers
Beethoven
Knocking At Your Back Door
Anyone's Daughter
Child In Time
Anya
The Battle Rages On
Lazy
Space Truckin'
Woman From Tokyo
Paint It Black
Smoke On The Water
You were there, you bought the tour programme, the T-shirt, the CD and the Video. And now BMG bring us the DVD too. Is it really necessary?. Well, yes and no as usual.
The packaging is minimal, the "extra stuff" on the DVD is marginal, the interviews are still intercut into the concert and some of the biographical information plain wrong. For the booklet they've nicked the liner notes from the original CD (audio) release. They say that the disc was recorded in Stuttgart and Munich, Germany and Birmingham, England. But that was only true for the just the audio release. Only Birmingham, England was filmed. (Confused?) What you do get is excellent picture quality and stunning sound.
Is it worth it? Read the reviews and discuss it!
Donor Section






Subscribe to:
The Highway Star Update!
Participate in:
Purple discussions
Join the:
Mailing lists
Purple Tours
Tour Dates
Tour Reviews
Purple Music
Shop
Upcoming Releases
Discographies
Lyrics/Tabs
Sound Archives
MIDI Archives
Movie Archives

Other Sections
News
Frequently Asked Q's
Image Gallery
Purple Contributions
Interviews
Special Features
Editorials
Bios/Family Tree
Newsgroup/IRC
Joanna's Gossip
Links
Who To Blame