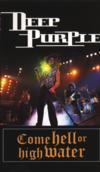 Video


DVD
People: Ritchie Blackmore (gtr), Ian Gillan (vcl), Roger Glover (bss), Jon Lord (kbr) and Ian Paice (drm). Produced by Lana Topham.
Recorded live on 9th November 1993 at the Birmingham NEC. Besides the actual gig, there are bits and pieces of interviews here and there in the video. The square bracketed timings below indicate these interview bits. Note that there's also a CD with the same title and cover art, but with different tracks.
CONTENTS
Introduction 3.18
Highway star 5.34 [+1.52]
followed by some comments on Blackmore's behaviour: "I was furious" (Glover); "when he has a problem, we have a problem" (Paice); "[I was] angry and sad at the same time" (Lord); "he's in a world of his own" (Gillan); "like some, some little boy" (Lord again); "it just isn't fair like that" (Paice again).
Black night 5.09
Talk about love 4.11 [+1.09]
followed by some comments on the set-list: "different people gonna wanna hear different things" (Lord); "it's always a difficult problem" (Gillan); "to get 4 from The Battle Rages on I think really says a lot about the album" (Glover); "you don't analyze them when you're bored with playing them" (Paice).
Twist in the tale 4.10
Perfect strangers 6.46 [+1.54]
followed by some comments on the fave Deep Purple album(s): Paice likes Made In Japan "purely because it was a fluke"; Gillan likes "collectively: In Rock, Fireball, Machine Head, Perfect Strangers and The Battle Rages On"; Glover likes In Rock "because that was the first one and it was fresh"; Lord also likes In Rock since "everything about that album and that time is crystal clear to me so it's very special, for all sorts of reasons" but also because "it started something, which it not yet finished".
Beethoven plus a keyboard solo 9.00 [+3.44]
followed by some rememberings: Gillan remembered "making love to a girl under the piano on the stage during the guitar solo"; Lord remembered seeing Blackmore "turning yellow in front of our eyes"; Glover felt that "we can't tour the States without someone going down"; Lord realized that Glover "can sing... ha ha ha ha ha!" when the latter once sang lead vocals for Deep Purple; Paice remembered a gunshot that "didn't sound too good"; Lord remembered an assassination attempt; while Gillan humbly concludes that "some of the stories just remain in the mind".
Knockin' at your back door 7.53
Anyone's daughter 4.19 [+1.15]
followed by Gillan commenting on the lyrical contents of Child In Time and Anya: "the message is pretty much the same ... so the songs go together".
Child in time 10.09
Anya 6.46 [+1.17]
followed by some comments regarding Deep Purple's legendary status: Paice simply wonders: "who cares?"; Glover claims "it's pronounced leg-end"; Gillan feels that "it's all just hype"; Glover says that "it's kinda difficult to tell your kids you're a legend, you're dad"; Paice so eloquently states that "there's nothing wrong with Jurassic Rock compared to what it's got to fight against today, which is nothing"; and Lord "don't think of ourselves as 'legend'".
The battle rages on 5.47 [+1.59]
followed by comments on the latest album: Gillan says that "it's probably the best produced Purple-album"; Lord claims that it's "benefiting from the technology we have now that we didn't have twenty years ago"; Paice admits that "we were actually planning it for another singer" and Glover says that "we decided that Joe wasn't gonna work" and thus Paice realized that "as soon as Ian comes back in ... all of a sudden you have a complete unit again".
Lazy plus a drum solo 7.15
Space truckin' 2.51
Woman from Tokyo 2.23
Paint it black 5.52 [+2.37]
followed by some comments on the 1993-tour: "we don't have anything happening in Europe" (Paice); "I think we've played as well as we've ever played ... a combination of improvisation and discipline" (Lord); "this tour's been sold-out from beginning to end" (Gillan); "I think the band is a vital happening thing, or was" (Glover); "life does not depend on that man [i.e. Blackmore] as far as we're concerned anymore" (Lord).
Smoke on the water 9.11 [+2.22]
followed by comments on rock'n'roll, the future and whatever else: "rock musicians wear their own clothes" (Gillan); "music governed everything" (Glover); "it's a band of extremes, it's either on or it's off" (Paice); "if it feels good let's do it ... that's one of the great tenents of rock'n'roll ... among others which are far less repeatable" (Lord); "I have no expectations either way, above and beyond that it's gonna be good fun" (Lord again); "if you're not interested in pleasing other people you might as well remain an amateur and do it in your own room" (Gillan); "[Highway Star] just appeared.. it evolved on stage, it wasn't written, it evolved" (Glover); "when we do do it right, it's exciting... and it's a little bit better than people usually see" (Paice); plus a smokin' piano by Lord who reassures us that "it'll be on the next album".