Machine Head goes Bananas over America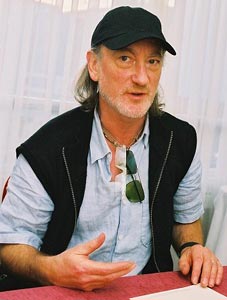 Photo by Janez Pelko
Roger Glover interview - Copenhagen, November 30, 2003 - part one
by Rasmus Heide
December 2003 - Deep Purple's headlining tour across North America in February 2004 promises to be their strongest in many years. Combining songs from the band's recently released Bananas album with a performance of the complete Machine Head album means plenty of excitement for both new and old fans.
Machine Head is considered one of Deep Purple's strongest albums, featuring a slew of their greatest songs - from Highway Star and Smoke On The Water to Lazy and Space Truckin'. A splendid documentary has been released on the making of Machine Head. At the same time, Bananas is proof that the new line-up of Ian Gillan, Steve Morse, Don Airey, Roger Glover and Ian Paice is a Deep Purple reborn. An immensely successful European tour just concluded showcased a band at a musical and entertaining high point with plenty of intense musical finesse and high energy drive.
During an exclusive interview with The Highway Star, we asked Roger Glover to explain why the band has decided to pull the Machine Head songs out of storage again.
- In the States we are categorized, certainly by the media, as a 'classic rock' band. This is very frustrating when there is new material to promote; all they seem to play is the old stuff. That is why our audiences in the States are generally older than those in Europe or elsewhere. Attendances at concerts are also markedly lower as the economy staggers on. On the last couple of summer 'sheds' tours in America, we had a shortened set list and felt duty-bound to make it a greatest hits type thing, like everyone else was doing (it's tough out there!), thereby incurring the criticism of our die-hard fans.
What are you hoping to achieve from this new tour, and what will it mean for fans who are keen to hear the Bananas tracks live?
- Performing Machine Head in its entirety seems like a good way to use the situation to our advantage, both as a selling point and as a means of getting across our new album, Bananas. The band wasn't entirely convinced but in the end we voted to do it, simply because it is important to us that Bananas gets as much exposure as we can give it. I can't say what songs we will play apart from Bananas songs and Machine Head. We haven't discussed it yet.
How has the initial reaction to the tour been?
- The early ticket sales would appear to endorse the idea - Toronto apparently sold out in an hour or so - so maybe it will work well. Backwards, onwards and upwards! One step back, two (or three) steps forward.
Roger Glover also mentioned the possibility of discerning the Machine Head part of the show from the rest by showing a short film, but right now this is still in the planning stages.
In the next installments Roger Glover talks about recording Bananas, Don Airey's entry into Deep Purple, the band's online fan society, Jon Lord's involvement in Bananas, Lord's departure from Deep Purple and more...
Read part two Read part three
© The Highway Star 2004