The Band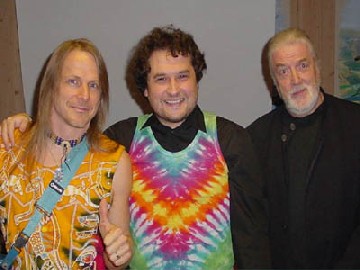 Steve thought my onstage look was too black, so he suggested I try on one of his t-shirts.
Backstage in Hell, Norway. October 4th 2000
©Bruce Payne
Before the RAH Concert, were you a fan of Deep Purple?
Deep Purple has always been a part of my life – in the family, in fact. My uncle, Colin Hart, began working for the band in 1971. One of my earliest musical memories is of hearing Deep Purple In Rock, as well as the original Concerto recording. Unfortunately, I was too young to have seen Purple live before the 1976 break-up. My first experience of a rock show was a Rainbow gig. When Deep Purple reformed, I saw them whenever I could.
What are your impressions of each band member, as musicians and personalities?
The first thing to say is that they are all great musicians and great personalities. Right from day one, they went out of their way to make me feel comfortable – their acceptance and trust was, of course, crucial to the whole project. Without that, it could have been a bit of a minefield for me, to say the least!
Some observations and recollections:
Steve Morse is an extraordinary artist – totally focused on what he is doing. The guitar is hardly ever out of his hands - on the bus, in the dressing room - constant practice. I'm sure he'd say that there's nothing unusual about this, but I know plenty of classical musicians who don't have that kind of relationship with their instrument.
I remember the creation of the new piece he introduced to the European tour. We had originally intended to play Night Meets Light, but without the bass and drums of his band, the arrangement didn't work. Literally overnight (and this is the source of Ian Gillan's various onstage remarks about it having been written just a couple of minutes ago), Steve came up with a replacement. Writing it into his computer, he gave it the ident guitarstring, which served as the original title.
As this implies, it started life as a piece for Steve alone with the strings of the orchestra, but since it sounded a little thin this way, he added in Roger and Paicey, and, again overnight, wrote brass and woodwind parts, all arranged and printed out on his laptop. Little by little, Steve built up this brilliant showpiece over the two days of rehearsal prior to the opening of the European tour. Its computer title also underwent a few changes – The Well Tempered Guitar (after Bach's The Well Tempered Clavier), then The Ill Tempered Guitar, and finally, The Well Dressed Guitar, which stuck. I'm pleased to see that it has recently been turning up in the regular Deep Purple set.
It was wonderful to be part of all this, and there were many other examples of Steve's generous creative spirit throughout the concerts – in the orchestra, heads would turn in amazement at some imaginative touch in one of his solos.
Roger Glover's musicianship is equally intense and wide-ranging. Apart from the fact that his imaginative and inventive bass playing is one of the foundations of the Deep Purple 'sound', his work as a writer and producer has made a major contribution, both inside and outside the band. I'm also eager to hear the solo album he has just completed - he has a great deal to say in his own right.
I think he has told elsewhere the story of our abortive attempt to have a curry one night, during the Albert Hall week. He saw a restaurant he liked the look of, and so we went in. Unfortunately, it immediately became clear that we had made a mistake. Being the good-mannered people we are, we didn't just get up and leave. Instead, I made my mobile phone ring, and Roger took an urgent call summoning him elsewhere just as the waiter arrived to take our order. We'll never know whether the poor guy suspected anything or not – but maybe my giggling gave the game away. Roger's a better actor than me.
As is well known, Ian Paice's 'score' for the Concerto consisted of a single sheet of A4 paper saying something like "wait for silly clarinet tune and count to four". And we all know the drummer jokes – classical musicians tell the same jokes about viola players.
But Ian Paice is a force of nature - the awesome power of his playing, especially when
you're standing right next to him, as I was for all the concerto shows, is something unforgettable. There is also considerable imagination in what he does - just listen to Fools, from the Tokyo concerto shows, for an example of the perfect marriage of technique and creativity.
And he came out with the quote of the tour: "Hey, Mann, man, how do you do it? You keep 85 musicians together with one little white stick, and I can't keep these four fuckers together with two."
Ian Gillan's attitude to the whole concerto project was an inspiration. He guided many of the most important decisions, for example about the set list, when we were still trying to find the right formula for the show. He understands the audience, and has great gifts as a communicator – he is, after all, one of rock's greatest lyricists. And, to paraphrase, all singers are unique, but some are more unique than others.
Two little stories: shortly after the beginning of the European tour, we found ourselves with a night off in Hamburg, and Mr Gillan invited me to join him, and a couple of others, for an evening's entertainment. After a wonderful dinner, we went on to something called the Dollhouse, on the famous Rieperbahn. We had a hilarious evening – a succession of beautiful girls came to our table, and ig delighted, in the nicest possible way, in shocking me as much as possible. A wonderful evening, a long overdue rite of passage, no doubt, and I'm not saying anything else, your honour.
But, nicest of all, a couple of months after the RAH shows, I was conducting a concert with the Bournemouth Symphony Orchestra. There, in the audience alongside Jon Lord, was Ian Gillan. I think it was the first time he'd ever been to an orchestral concert. Then I knew I'd made a friend.
And speaking of making friends, what can I say about Jon Lord? Right from the day we first met to take a look at the new score of the concerto it was easy to recognise a kindred spirit. I've written elsewhere about his extraordinary musical personality, which crosses all of the normal musical 'boundaries'. You're not supposed to be one of the great rock n roll keyboard players, and a composer of concertos, but that's what Jon is, and much, much more. We've had such good times that I can't think of a single example to give you. Apart from all the months working on the concerto, there have been hundreds of meals shared at restaurants all over the world, dozens of concerts – both our own and other people's, and probably thousands of bottles of wine. But, God willing, there'll be many more such times to come.
Deep Purple is greater than the sum of its parts. Every member is more than 20% of the band. They are now playing at the absolute peak of their powers, on the highest possible level. Every one of the forty evenings I was privileged to share a stage with them was an adventure, a new experience.
What is your impression of Ronnie James Dio? And what was it with all the bee stuff?
The overwhelming impression I have of Ronnie is one of immense warmth and generosity. He may be small in physical stature, but he is immense on stage, a thrilling performer who always gives everything all the time. Such is his ability to generate waves of raw emotion with his voice that, were he ever to lose his considerable gifts as a lyricist, he could still probably make the hairs on the back of your neck stand on end with excerpts from the telephone directory, as long, I suspect, as he could really bring himself to believe in that particular set of numbers. He is in touch with something elemental through that amazing voice of his. Everything he does is shot through with conviction and passion.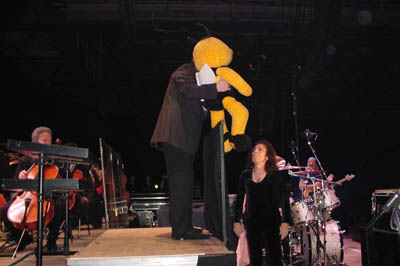 Ronnie presents Paul with the giant bee © Bruce Payne
Regarding the bees, at the start of the tour Ronnie decided I looked like John Belushi, who, apparently used to do a routine on TV dressed as a bee. So Ronnie started scouring motorway service stations and airport shops for as many different kinds of bee as he could find. I got bee key rings, furry toy bees, a bee sitting on its own heart-shaped cushion holding a tiny baton lovingly crafted by RJD, and, the grand climax: a four-foot cuddly bee, specially flown over from LA. All of these were presented to me on stage by Ronnie as he made his entrance near the beginning of the show, and it was only when the really huge one appeared that I felt it was time to let the audience in on the joke. Even in a foreign language, it got a great laugh.
In Madrid, he went out shopping for the Blues Brothers hat and shades, which he presented to me that evening on stage. He had the band play Soul Man, from the movie, to which he sang the words 'Paul Mann'. At the end of that show, I donned my new costume to conduct Smoke on the Water. Bruce Payne filmed all this from the wings – maybe one day, he'll remember to give me a copy!
What is your opinion of Ritchie Blackmore? What do you think of his performance on the '69 concerto?
I can't really talk about Ritchie on a personal level - it's many years since I met him, at the Rainbow concerts. He was always very nice to me.
The hand of God slipped when it was pouring the talent into Ritchie Blackmore. He's a unique, utterly magnetic performer. But extremes of talent can also create other kinds of extremes, and never more than in his case. And here comes the understatement of the century: he was not always an easy person to deal with.
Back at the time of the original concerto, it seems that, to say the least, Ritchie was not convinced of the wisdom of the enterprise. His seven-minute solo in the first movement was partly an expression of sheer defiance, but one that resulted in some of the finest playing he ever did with Purple. There is a kind of angry energy in it, which is truly electrifying.
This contradiction is, I feel, one of the keys to Ritchie's mercurial personality. Either he was spurred to flights of genius, where his incredible imagination would find its most natural means of expression, or he went onto some kind of deadly automatic pilot, where that same genius would appear to self-destruct. The second of these two extremes came to predominate all those years later, as Ritchie became increasingly bored, and relationships within the band began fatally to deteriorate. With Ritchie Blackmore there was never any middle ground.
In my opinion, he is all the more to be admired for creating Blackmore's Night, which seems to me as personal to him at this stage of his musical life as all his best work in Deep Purple, and in Rainbow, was at that time. This is the big mistake people make when they speculate about a Mk.2 reunion, or make comparisons with Steve Morse, an equally great musician, but about as different in style from Blackmore as it's possible to be. Ritchie has moved on, and so have Deep Purple. It was a divorce, which resulted in the two parties finding more suitable partners for that stage of their lives.
As for all the complex issues that surround Ritchie's relationship with the band over the years, I'm neither well enough informed, nor particularly inclined to get involved with them. All I can say is that I have enormous respect and gratitude for the music that Ritchie has made over the years, and I do think that the members of Deep Purple feel the same, whatever the problems of the past.
Perhaps a little anecdote will serve to round off these thoughts. Ritchie's sense of humour is as ingenious and complex as the rest of him, and the lengths to which he will take a practical joke know no bounds. During the Rainbow days my uncle, Colin Hart, arrived at a hotel, left his suitcase in the room, and went immediately to check on things at the studio. While he was out of the room, Ritchie went in, opened the case, and carefully removed Colin's washbag.
Returning from the studio, and in need of a shower, Colin opened his suitcase, only to discover the absence of his washbag. Thinking this a bit strange, but assuming he had just left it behind in the previous hotel, he showered as best he could without it.
He then went down to the bar, where Ritchie was sitting with his girlfriend animatedly discussing the length of the Mississippi river. "I say it's fifty miles long," says Ritchie. "No, surely, it's more like a hundred a miles long," says his girlfriend. Colin says, "You're both wrong. It's more like five hundred miles long." The argument gets more and more heated until finally, Colin spots a way to settle it. On a shelf, at the end of the bar, is a series of encyclopaedias. Colin reaches up to the volume containing 'm' for Mississippi. Behind it, is his washbag.