The story behind the album
I first saw this album in 1973, in the Woolworths store at the east end of Princes Street in Edinburgh. It was 10pm on a Sunday night, the store was very firmly shut, the record was on a stand behind the glass door, I was on a school trip, and I was going back home first thing the next morning. So I had no chance to get it.
I kept looking for it, but it was about three or four years before I found it, in another branch of Woolworths.
Woolworths in the UK is a fairly downmarket high-street store (known to one and all as Woollies), and is definitely not the place to buy your records if you want to have any street cred. Worse, the album itself was one of these dirt-cheap ones that Woollies used to sell - older UK readers will remember labels such as "Hallmark", "Pickwick", "Music for Pleasure", and the gloriously politically incorrect "Top of the Pops" series, each with a scantily-clad dolly-bird on the cover. In addition, Purple themselves were extremely unfashionable with most of my mates.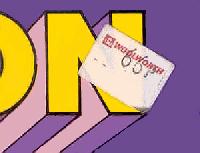 All this meant that I practically had to slink into Woollies in disguise to look for it - it would have been social disaster for me to have been discovered there, looking through the cheapo crap for an album of Deep Purple covers. (Nowadays, you'll have gathered, I don't give a damn.) Anyway, by the time I found it, I hated the wretched thing for all the trouble it had caused me. It cost me 66 pence (it still has the sticker on the cover) in 1976 or 1977 - probably about the price of a 45rpm 7inch single at the time. And when I played it.....was it bad!
Now flash-forward about 17 years. During this time, I'd played this record whenever I wanted to laugh. It became a standard in my house - "Is it as bad as Funky Junction?" Anyway, in late 1994 I was new to the Net. I'd discovered alt.music.deep-purple and its resident guru, Trond. (This was originally written in 1996. Due to the intrusions of real life, Trond doesn't have time for amd-p these days.) In a note to Trond I said something about Funky Junction and how bad they were. His reply hinted that they were actually Thin Lizzy. "Whaaatt??", I said, "Tell me more!"
Trond didn't - instead he forwarded my note to Alex Gitlin, who passed it onto Lennart Hedenstroem, who gave me the full story. This impressed me immensely. First, the sheer logistics of flashing this note around the world was impressive to this Net newbie - because I'd worked with computers for over 20 years and I knew how difficult it is to get them to do anything at all! Second, the fact that there were all these friendly and helpful folk out there who not only cared about Purple, not only had heard of FJ, but even knew who they were, and were happy to take the time to tell me, gave me a very warm feeling. I knew I was in with friends.
Here's what Lennart told me......"Eric Bell, the original Thin Lizzy guitarist (70-73), was interviewed in Black Rose (the TL magazine) some years ago. In there he told the story about the FJ album. So it's definitely Thin Lizzy.
Musicians were Phil Lynott (bass), Eric Bell (guitar), Brian Downey (drums), Dave Lennox (keyboards), and Benny White (vocals). The first three were the Lizzy line-up at the time (1972). Phil couldn't sing in the style of Ian Gillan, so they brought in White from the Dublin band Elmer Fudd and also their keyboard player (Lennox). The album was released in early 1973. Lizzy had a couple of albums out that were no success and they had just moved to London from Dublin and were broke. They got an offer from a German man to record this album as a tribute to Deep Purple anonymously for a sum of money that would keep them from starving for a while. These versions can in no way compete with the DP original. Eric Bell is no Ritchie Blackmore and Lizzy was a young evolving band at the time - not to mention the low budget production that in all makes this merely a thing for die-hard Lizzy collectors."
Garry Smith - garry@caleyjag.demon.co.uk