Connoisseur - Roger Glover - Elements/The Mask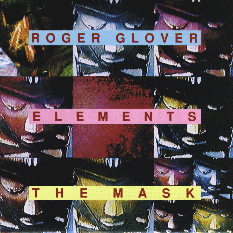 Released in 1993, this CD (VSOP CD 183) combines Glover's post-Purple concept album from '78 Elements with his post-Rainbow album The Mask.
Elements
Personnel
Drums - Simon Phillips
Strings - Munich Philharmonic, arranged by Graham Preskett
Sax - Ron Aspery
Vocals - Liza Strike, Helen Chapelle, Graham Preskett
The rest - Roger Glover
Supporter - Martin Birch
Track Listing
THE FIRST RING MADE OF CLAY
THE NEXT A RING OF FIRE
THE THIRD RING'S WATERY FLOW
THE FOURTH RING'S WITH THE WIND
FINALE
Notes
Having thrown himeself into producing albums for others (two each of David Coverdale and Dio's ELF albums also on Connoisseur), and the creation and arrangement of The Butterfly Ball, it wasn't until 1978 that Glover found time for another creation.

Moving to the opposite extreme of The Butterfly Ball which consisted of short, commercial tracks, The Mask comprises five parts: one for each Element and a finale.

Roger commented recently:

I wrote [the poem] it about a year before the album. The album came about because I'd been wanting to do an album for a while but kept putting it off. The only way I'd get it done would be to actually book the time and then I wouldn't have an excuse. So this I did, went to Musicland with Simon and Mickey Lee and spent a week laying down tracks over which I was going to sing, with a little help from Liza Strike and Helen Chapelle who were due to arrive a week later. What happened was I got cold feet when it came to my singing and abandoned the idea. Rather than go home and forfeit the studio time and musicians I'd already paid for, I decided to try something really off the cuff, not to mention off the wall, based on that strange poem.

It was exhilerating actually, not knowing what I was going to do (or not knowing what I was doing) and just forcing myself to come up with something in the hour or so before the rest of them came into the studio each day. My only credo was that I really didn't want to use the electric guitar; I'd had enough of it and I reasoned that it should be possible to make dramatic music without that crutch. It's a matter of conjecture whether I succeeded or not, but if one went by record sales then I'd have to admit that I didn't. Only one piece of music survived from the earlier abandoned recordings and that was used for the third section (water).

There two other musicians that I would mention: Ronnie Aspery, the sax player from Back Door who sometime later gave me the unforgettable quote when I asked him what he'd been up to and he replied that he'd had enough of doing sessions and was writing more, saying, "I'd rather be an architect than a bricklayer." The other one is Graham Preskett, a super bloke and musician who orchestrated my ideas with a great deal of talent and zeal, and who sang whilst playing the electric violin. I'm indebted to everyone who appeared on that album, not the least of whom was Martin Birch, they gave me a lot of support when I needed it most.
Review
Well, I like it. It's a moody, symphonic rock piece, which if I'd have known about it in 1978 wouldn't have left my turntable. The musicianship is superb and given that I'm a sucker for the sax and big fat string sections this now occupies my CD player at work and looks like doing so for a while to come.
The Mask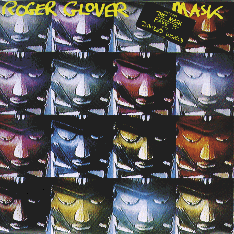 Personnel
Bass and Vocals - Roger Glover
Drums - Chuck Burghi, Mark Conese
Keyboards - David Rosenthal, Jean Roussel
Backing Vocals - Craig Brooks, Kate McGarricle
Sax - Charlie Dechant
Guitar - Dave Gellis,
Track Listing
Divided World (Glover)
Getting Stranger (Glover)
The Mask (Glover/Roussel)
Fake It (Glover)
Dancin' Again (Glover/Gellis)
You're So Remote (Glover)
Hip Level (Burgi/Gellis/Glover)
Don't Look Down (Glover)
Notes
After his stint with Rainbow and before the Deep Purple reunion in 1984, Glover found time to get a new set of musicians into the studio in the States, and even got a budget from the record company!

Unfortunately, the punchy single The Mask and the album got lost against the Purple reunion, so I'd say now would be a good time to go back and listen to some damn fine tracks and bring up some flashbacks of the early eighties!

Oh, and Roger's vocals are pretty good too.
---
Dave Hodgkinson
[ connoisseur index | rosas ]