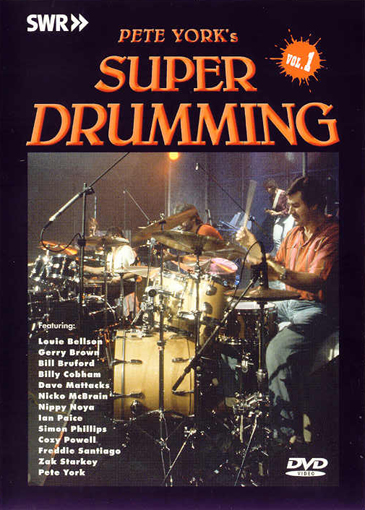 DVD front cover
In 1987 and 1988 German TV broadcast two series of shows where, for once, the drummers were the focus of attention. Featuring such luminaries as Ian Paice, Cozy Powell, Simon Phillips and Jon Lord (as part of the backing band), the series ran over three seasons and was instigated by drummer Pete York, a long-time affiliate to the Deep Purple family.
Mixing new material written for the series with well-known material, the series provided excellent sounding recordings of some of the world's finest drummers, mainly from the rock genre, but with occasional jazz and latin leanings as well. Now, parts of the first two series, have been released on DVD and (like Ian Paice's DVD) this is not just drummers' stuff either.
Filmed without an audience, most tracks feature one or two drummers and include drum solos - which often evolve into full-blown drum battles when there's two drummers on a track - as well as solos from the other instrumentalists. Ian Paice was featured on two tracks, as was Cozy Powell. Jon Lord played Hammond and synthesized piano on the second season, which featured a brilliant extract from his then best solo album Sarabande.
Did you buy this? Please send us your review
This special last updated January 26, 2003