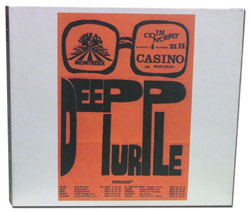 Montreux 69
Excellently energetic, Deep Purple Mark 2 were but a few months old as they took the stage in Montreux, Switzerland on October 4, 1969. The set included early versions of SPeed King (still titled Kneel & pray) and Child In Time along with the surprise encore of the Mark 1 cover Kentucky Woman.
Disc 1
Kneel & Pray 5.54
Hush 6.20
Child In Time 12.38
Wring That Neck 20.30
Disc 2
Paint It Black 10.48
Mandrake Root 22.08
Kentucky Woman 6.00
The sound quality is excellent, allowing for close-up listening to the instrumental brilliance of very early Deep Purple Mark 2 in an intimate club setting. Stunning.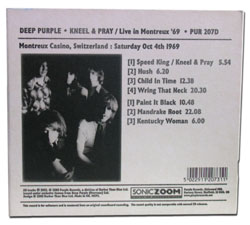 Did you buy this? Please send us your review
Photos from the CD booklet are © Jørgen Angel.
This special last updated May 7, 2004