front of CD
Inglewood 1968
When Deep Purple arrived in Los Angeles for their very first visit to the States on October 15, 1968, they were booked to support Cream on the trio's farewell tour. The first show was at the Inglewood Forum in Los Angeles on October 18, from which this CD comes. Lasting only for a few dates, Deep Purple was quickly kicked off the Cream tour - alledgedly for fear of upstaging the headliners. Being a support slot, the band's full set fits onto a single disc and perfectly displays the ferocity with which Deep Purple sprang onto the Los Angeles live scene.
This recording originates from a video tape. A record company employee video filmed Deep Purple's show on an embryonic handheld Sony camcorder. Laying hidden in the vaults for more than 20 years, the tape was finally unearthed in the early 90s. By then the visuals had deteriorated so badly as to render the film almost unwatchable (beware, it does circulate among collectors), but fortunately the sound was intact. A bootleg CD did creep out in Japan at the time, but for this official release, the sound has been restored with optimal results.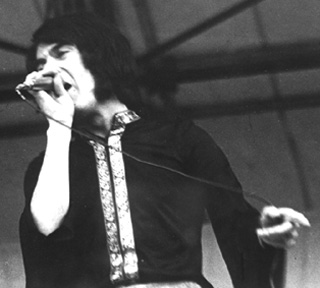 Rod Evans onstage with Deep Purple.
Where is he now?
Garry Smith provides a complete and in-depth review of the album, including photos from the booklet. Inglewood proves yet another goodie from the Sonic Zoom label - a DPAS initiative designed to beat the bootleggers at their own game by releasing the best and most interesting archive Deep Purple live recordings. Only available on mail order from the DPAS online store.
Did you buy this? Please send us your review
This special last updated October 21, 2002