front of CD
Copenhagen 1972
Deep Purple's show at Copenhagen's K.B. Hallen on March 1, 1972 was filmed in black and white by Danmarks Radio (Denmark's national broadcasting organisation). Years later it surfaced on retail VHS under the title Scandinavian Nights (not to be confused with the similarly titled double live CD recorded in Stockholm 1970). Now, for the first time, the video's soundtrack is available on CD officially as an installment on Simon Robinson's excellent Sonic Zoom label. Support this!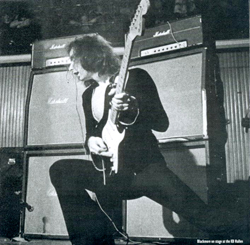 Blackmore onstage in Copenhagen 1972
Did you buy this? Please send us your review
All photos are © Purple Records.
This special last updated January 25, 2003