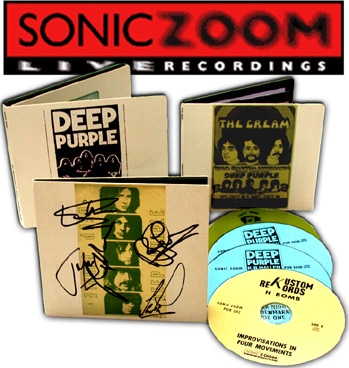 Initiated by Simon Robinson at the DPAS, the Sonic Zoom label releases live recordings for collectors through mail order that aren't deemed suitable for general release through the shops.
The recordings are taken from radio broadcasts, soundboard tapes or audience tapes, and while the quality usually isn't as good as that of ordinary live albums, Sonic Zoom is sourcing the discs from the best available tapes and they remaster/restore the sound to ensure the highest possible quality. In short, Deep Purple fan with an insatiable taste for the band's live performances will not go wrong with a Sonic Zoom release.
So far there are three releases, with one more announced for release this year and further for next year.
All of Sonic Zoom's releases are available exclusively through the DPAS - see 'Buy It' link on the left. The photo above shows the three first releases from Sonic Zoom (please note, you'll have to get the signatures yourself).
Did you buy any of these? Please send us your review
This special last updated May 7, 2004