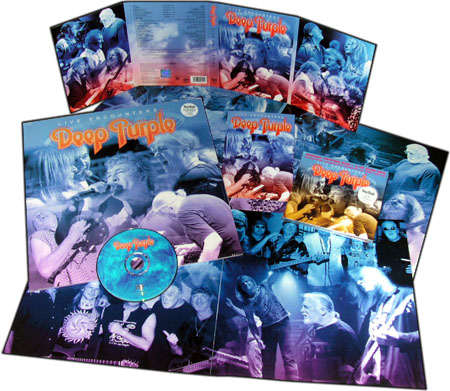 Format overload? Live Encounters bonanza!
Tracklist:
Fireball
Maybe I'm A Leo
Ted The Mechanic
Pictures Of Home
Black Night
I'm Not Your Lover
Sometimes I Feel Like Screaming
Woman From Tokyo
No One Came*
Rosa's Cantina
Smoke On The Water
Jon Lord's solo
When A Blind Man Cries
Speed King
Perfect Strangers
Hey Cisco
Highway Star
*CD only
Katowice, Poland, June 3 1996
Steve Morse is back on stage left (audience P.O.V.) and a very long-haired Gillan throwing it all about. It seems such a long time ago the band came out blazing with everything to prove on the back of the excellently refreshing Purpendicular.
The setlist reveals an urge to explore new waters with five songs from the then brand new album plus three or four oldies new to most live audiences.
There's no faltering the energy onstage. The whole band seem 'on' for this one, so there's plenty of good stuff to get into - including Roger not wanting to end Maybe I'm A Leo! Sadly, Ian Gillan's voice leaves a lot to be desired, so if you're mainly after vocal excellence, you'd better skip to the bonus material right away.
However, the four instrumentalists deliver the goods throughout and it's a joy to relive that summer of 1996. Jon Lord and Steve Morse trading licks in Speed KIng like there was no tomorrow.
Rosa's Cantina is a particular joy to hear and watch. Ian Paice mixing shuffle and swing, Jon Lord 'percussionising' the Hammond as last seen in Hush. That song alone is a beautiful example of the very particular Purple sound that you only get with these guys. It's rocking away ever so subtlely just under boiling point.
Hey Cisco features Ian Gillan mock horseriding across the stage and it's another Purpendicular favourite worth revisiting.
The camera work is mostly excellent, with some interesting overhead views down through the lighting rig and carefully framed close-ups of every player. In that respec t this walks all over Perihelion from a few years later.
I can't make up my mind about the sound. The CD sounda a bit thin on the stereo, and the volume and mix seem to fluctuate on the DVD. Must there always be at least one disappointment on every Purple release?
The bonus material is a wealth of band interviews, seemingly unedited so you get warts'n'all from the moment each musicians settles in for the chat, till the end. This is interesting stuff. They do re-tread a lot of old stories, but they do it well and each player gets to say his parts. Being very much based around factual fan interest questions, the bonus interviews are a great added feature here. They're actually saying things! You want to turn Live Encounters on its head and recommend it on the strength of the interviews alone. Almost.
The packaging of all the various formats is something else. All of them are plastered with live photos from Bruce Payne's archives (i.e. not all relevant to the actual show), and in good quality too. Bitter Polish fanclub members say they offered comtemporary concert shots for the design, but were ceremoneously ignored.
Live Encounters comes in a plethora of formats that is quite manic! One DVD and one CD (with one collectors vinyl edition) would have done the trick for most of us. Still, the gatefold digipack combined DVD and 2CD is very nice.
Whatever, in spite of Ian's hoarseness it's not a bad show at all.
Did you buy this? Please send us your review
This special last updated December 16, 2004.