...till she said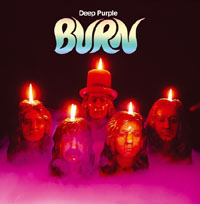 The remastered Burn album was released almost 30 years to the very day Deep Purple Mark 3 first showed itself with the two new members David Coverdale and Glenn Hughes at a press conference at England's Clearwell Castle. It picks up where the remastered Who Do We Think We Are left us four ears ago. The Deep Purple remastering schedule has changed its concept from 25th anniversary releases to 30th anniversary releases. Quite why it should take longer to reissue music today that was originally written, recorded and released at a steady pace is anyone's guess.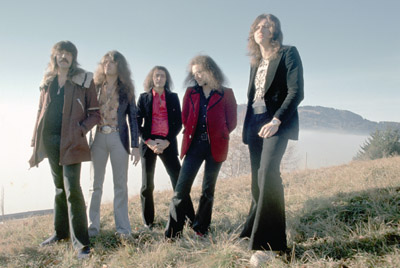 Deep Purple Mark 3 outside Clearwell Castle, September 1973.
Photo from Didi Zill's photobook
When the CD medium first appeared, record companies wasted no time transferring their catalogue to CD, but they showed little care for the way it was done, often forgetting to take full advantage of their own argument that CDs are a superior medium which can convey music at higher quality than vinyl (still debatable, I know). The result was a generation of music re-released on inferior CDs at budget cost with no consideration for sound quality or even quality packaging .
It took a few years till the powers that be came to their senses and realised something was amiss. Eyeing another (comparatively) easy buck, record companies started re-re-releasing the same music in remastered form on CD, often tying releases in with anniversaries of the original release. Thus we today see a plethora of remastered albums on CD, which is essentially the way it should have been done originally anyway.
The attractions of a remaster
The attractions of remastered albums tend to come in two tiers. Logically the remastering itself (should) ensure higher sound quality on the tracks originally included on album. The longer playing time of CDs also make way for the inclusion of bonus material, (usually) relevant to the album proper.
Said bonus material comes in many shapes and sizes. Contemporary sources include previously unreleased tracks (usually the most coveted bonus material of them all), radio interviews, live tracks, and contemporary single edits. Where contemporary material is unavailable, record companies turn to the trick of remixing. Executed respectfully, modern remixes of material made three decades ago can reveal new angles on the original music. Bits of the performance that were originally mixed out of hearing can be pushed forward or a decidedly 'richer' sound can be sought. But it's a fine line between doing the right thing to enhance old recordings, and plastering new-fangled studio technology over music which in the first place wasn't really broken at all.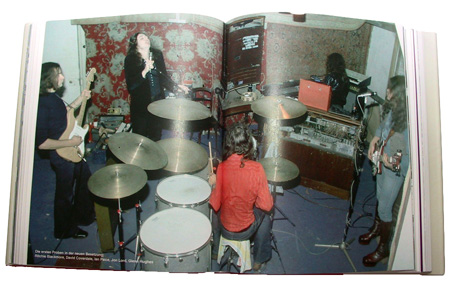 Deep Purple rehearsing at Clearwell Castle September 1973.
Photo from Didi Zill's photobook
Basement blows
Naturally contemporary bonus material must always be a priority. If you want to expand on a studio album, the best way is to show how it was made, illustrate the creative process through examples of early versions of various songs.
So when news filtered through that a cassette tape had been found of Deep Purple rehearsing during the early stages of the Burn sessions, it whet many an appetite for the remastering of Burn.
The Mark 4 rehearsal recordings (as released on Days May Come & Days May Go) thoroughly exhibit Deep Purple at work with a fresh, new member, exploring each other's capabilities and testing new ways.
Sadly, as exciting as the news of that cassette tape was, just as disappointing was the news later on that a decision had been made to not include any of this material on the remastered Burn - because the quality wasn't up to scratch. I don't know about you, but I'd be happy to endure hiss, distortion (and possibly hell fire), to get an aural glimpse of DP testing themselves with two new members in the bowels of Clearwell Castle in the fall of 1973. Let's face it, Joe Average isn't going to care much for rehearsal tapes either way, so why be so concerned with the quality?
(People with long memories will remember a similar story leading up to the release of the remastered Fireball, where a rehearsal tape of Strange Kind Of Woman was left off the CD due to lack of space. A couple of 1996 remixes were felt to have more relevance! More on this later.)
Justified originals
So, with the most exciting new Deep Purple discovery in ages left out, what else is there to get stuck into on the remastered Burn?
Of course, the remastered original tracks have never sounded better. The energy and enthusiasm comes through beautifully on an album that always sounded brilliant anyway. Witness again Ian Paice's excellent drumming on the title track. Recently he explained how the intense 'busy-ness' of his 'soloing' through the verses was a way of letting off steam during a frustrating day in the studio. (Thank you, Ian!)
Might Just Take Your Life, You Fool No One and What's Goin' On Here all display the groovy funk of the new line-up, augmented by powerful vocals from both Coverdale and Hughes.
Apart from the weird A200, Burn is one of Purple's most cohesive and solid albums. The creative direction instigated by the influence of the two new members is evident throughout and much like In Rock, Come Taste The Band and Purpendicular showed fresh, new potential, so does Burn.
It's a corker of an album. The eight original tracks more than justify this remaster.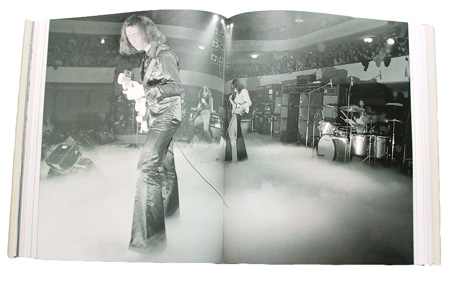 Mark 3's fourth show, Frankfurt Festhalle, December 16, 1973.
Photo from Didi Zill's photobook
Bogus bonus
The remaining 'new' bit is a remixed Coronarias Redig - the single b-side recorded in Copenhagen after Mark 3's live debut there on December 9, 1973. You'll have to get the (excellent!) Listen, Learn, Read On box set to get a straight remaster of this track. The Burn remaster only includes a 2004 remix, which although adding colour and depth to the track, also crosses the line between tact and tacky by adding an echo effect to the opening riff. However minor this might seem, it tends to disturb the mind and the impression of a 30-year-old track. The real gold nugget though lies at the end of the track where the remix engineer left the tape rolling to include a bit of Ritchie fiddling with a chord progression. Short and sweet.
The remaining section of Burn 30 is four 2004 remixes of Burn, Mistreated, You Fool No One and Sail Away. The one instant where new remixes provided a remastered album with real value was Machine Head. The Burn remixes tend to focus on one of early Mark 3's forces, the swarming vocal harmonies. Subtle new colours have been added to beef up the general sound, but at the end of the day the remixes don't really cut it as bonafide value-adding bonus material.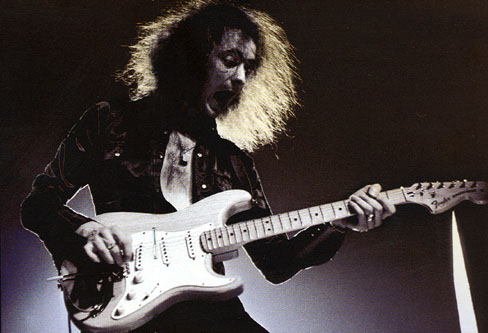 Ritchie Backmore on Deep Purple's May 1974 UK tour
Words, words, words
The 24-page full colour booklet is as exhaustively informative and competently illustrated as ever with the Deep Purple remaster series. DP Trainspotter Extraordinaire Nigel Young has pushed the boat out properly on the notes (novella?), which comprehensively take the reader through the final days of Mark 2 and into the frustrating search for new members. It provides insightful notes on the recording sessions, expanded on by numerous contemporary quotes from the five musicians involved. Finally it recounts Mark 3's initial touring activities in both continental Europe, North America and Britain.
In short, after the eight remastered tracks, the booklet is very much the main reason to get the Burn remaster.
Copy Control, avoid
The European pressing of the remasterd Burn is plagued by a Copy Control system that the record labels seem hell bent on shoving down our throats. No, illegal copying of music is not endorsed, but manhandling the music that is the very livelihood of these companies is offensive, annoying and counterproductive. Throw the remastered Burn CD into your PC's CD-rom drive and it'll start up a mini media-player window (of sorts) which will only play back compressed versions of the music on the disc. Fine. Anyone should be able to live with this - that is, if the music hadn't been encoded at a measely 64 kbps! This postively ruins any listening experience as it makes the music sound like it came drifting in from a remote AM station broadcasting with stolen pre-WWII equipment. Yes, it's that bad.
Conclusion
Summing up - and this is assuming you can restrict your type of playback device to proper CD players - the Burn remaster is recommended for the gorgeous sound on the eight original tracks and for the excellent booklet. The remixed Coronarias Redig features a fascinating ending with new bits of studio doodling from Ritchie and that's about it.
The 2004 remixes seem nothing but a poor man's excuse for bonus material - and the incompetent handling of the Copy Control system is unforgivable.
Rasmus Heide, features & reviews editor
Thanks to EMI, Jim Corrigan, Dan Lam
This special last updated: October 5, 2004