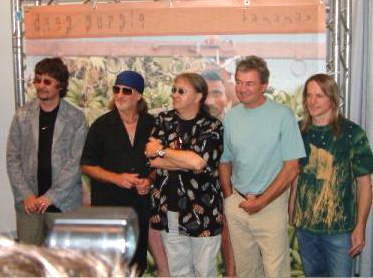 Berlin, August 17, 2003
After four consecutive festival dates, Deep Purple gratefully arrived in Berlin for a couple of days off. Entering the airconditioned comfort of the hotel things started to get a little surreal with not only two other bands there, but the Japanese Prime minister Junchiro Koizumi as well. I'd like to say he got his round in at the bar and sang great karaoke, but sadly it wasn't to be.
It wasn't all rest though. The guys had a significant number of face to face and telephone press interviews to do as well as two rehearsals to stress-test half a dozen new songs for the concert on August 20.
The concert day itself was a very busy one indeed. EMI had assembled one of the largest press conferences the guys had done in years and this went very well with the whole band answering questions, many of them the usual ones. Top prize has to go to "why don't you have any hair to shake any more?" to Gillan which he fielded beautifully with a long story ending in "plus it doesn't get in my beer any more".
Like many of the best Purple concerts I've seen, this one was Purpendicular to the normal, slightly orthogonal even. With a good portion of the audience invited, the whole show underpopulated so the poor press darlings didn't spill their drinks and a typically stiff Berlin (though with lots of out-of-towners) audience, this wasn't to be a typical German mad thrash like those earlier in the year. However, the new songs went down extremely well, and certainly no visible dash for the bar during the new songs. The audience definitely loosened up in the second half after Smoke and Perfect Strangers.
Bananas launch party setlist, Berlin, August 20:

Highway Star
Knocking At Your Back Door
Silver Tongue
Lazy
Contact Lost
Haunted
Bananas
Well Dressed Guitar
House Of Pain
Perfect Strangers
Smoke On The Water
Hush

I've Got Your Number
Black Night
Were you also there? Please send your impressions to us
This special was last updated on September 1.