YORKIE raps
with
DEEP PURPLE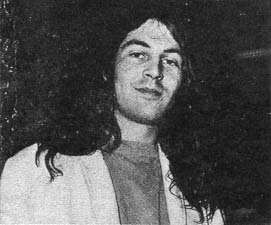 Deep Purple vocalist Ian Gillan when he arrived at Essendon airport for the start of their Eastern States tour
...Me? Talking to Ritchie and Roger just then...

Hi Everyone! ...your friendly jockette again - still with those mighty Deep Purple sounds thundering in my ears! And man, was that airport cold when they arrived the other Friday morning at 6 a.m.


Ritchie Blackmore, lead guitarist, was the first Deep Purple member I met - a very cool dudedressed in all-black. Very quiet, reflective - then wow. Friday night on stage - what a showman! It was, I learned from Roger Glover the bass guitarist, Ritchie's Gran who'd come up with the title of Deep Purple when Ritchie and Jon Lord got the original group together back in '68. Gran liked the old song Deep Purple, the boys wanted a something-different name, so Deep Purple they became - and good for Ritchie's Gran!


Ian Gillan was in a great mood even after the flight from Perth which they had caught straight from their show there. He told me a story about a spider which kept close to him - very disturbing. But it was Jon Lord, the group's brilliant organist - and the composer of the concerto which the group performed first in London's Royal Albert Hall with the Royal Philharmonic Orchestraw with whom I had the longest chat.


ME: How did you get into music?


JON: Well, I guess it was in me, first. I learned poano for years. But then I wanted to be an actor and I had a grant for a drama school. Even then, though, it was always my musical effortsin plays which gave me good reports - even though I kept on wanting to see myself as a comedian. No-one else could. And I went back to music simply because I was starving. I wasn't getting any work, my parents didn't know my grant had gone, I didn't want to ask them for money and one morning I woke up and wasn't hungry - I was starving! Fortunately I got a job playing blues on piano in pubs. And then I knew I just had to follow up music.


ME: And you wouldn't do anything else now?


JON: No. And I won't have to because of my composing. The Concerto back in '69 was an experiment but it worked. It was part of what Ian calls "our hobbies" - which he believes we all must have... perhaps if the Beatles had done this which is what they're doing now, they wouldn't have split... like there's the group but we each go in other directions - it's just an extension of ourselves as part of the group.


Ian went off and put down Superstar - after much hesitation - and he writes poetry and does very good lyrics, escpecially what's coming up on our next LP which we're finishing when we get back to London... there's one called "No One Came"... (pause)... it's very good. And the others all have their hobbies, too.. Ritchie writes beautiful romantic poetry, and mine is composing. After the Concerto, the BBC approached me to write another score for one of their series. I had a year and produced Gemini Suite. But only two of the guys are on that - the others were doing other things - their own things. And this is good - it's good for any group.


ME: Do you have much spare time?


JON: Normally we have a couple of days off a week. August is a pretty lean time in England and we have more then. I read a lot - anything, depending on my mood. I guess I should do some gardening - it's a wilderness at home, but I... yes, I like it like that. You know one thing I dislike about travelling is that you lose time. You lose a day here... you lose a day there. Like today. I'll sleep until about three today then fix up things for the show tonight and then it's the show and then we're on the move again in the morning. And every minute is so precious. There are so many things to do and see - but not enough time!.


ME: Deep Purple took a long time to be accepted in England - why?


JON: Because we weren't known. We hadn't done anything to get noticed. America had noticed us but not England and as an Englishman speaking it means a lot to be accepted in your own country. But then with the Concerto - which honestly wasn't a hype - or put-on thing but just something I wrote and we did because we wanted to - we were news and that's when England started to sit up and take notice. And our albums sold. We haven't looked back since...

Hope to see you on our Know Your Melbourne Tour... it happens next Sunday!
---
Article © GO-SET 1971. // supplied by Colin Hadden.
HTML work by Andreas Thul. // © The Highway Star 1998.