Who Do We Think We Are!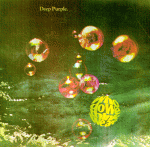 Very much the lost cousin of the classic Purple lineup, Who do We Think We Are! stands as testament to a band who even at their most dysfunctional are capable of generating music that should make others go back to their day jobs.
So what do we get here? The orginal album had seven songs, with "Painted Horse" and a couple of fooling around songs, "Smelly Botty" and "It's only Make Believe" being omitted.
"Woman from Tokyo" was the only survivor from the Italian holiday/writing/recording/drinking/pasta session and looked forward to the upcoming dates in Japan, their first. As Roger Glover puts it: "A riff of Ritchie's turned into a story about an imaginary love affair with a woman from Tokyo, one who we hoped we would soon meet. The lyrics speak authoritatively about something we knew little about at the time, but that's what imagination is for".
For those unfamiliar with British politics, "Mary Long" has a none too subtle dig at a couple of pillars of the establishment who were apparently upset that young people were having a good time. "What I'm saying, Mary Long is/When you can spare a minute/Go find your friend the porny Lord/Dig yourself a hole and jump in it." Beautiful, just beautiful.
No, not a prescient reference to Ritchie's liking for Abba, Super Trouper refers to the powerful spotlight in use at the time, a spotlight Gillan felt himself to be under. "Super trouper, yes I know you well, making me shine/I couldn't see what you did to me. I was so blind"
Smooth Dancer is possibly the most lyrically intense of all the songs, hinting at the very tensions that were to rend the band asunder. And yet, while threatening to leave "You'd better do it right because one day or night/I'm gonna walk to freedom" in the next line he's holding out hope that there might yet be a way they could work together again "You know I loved you once and I wanna love again". Had the two shared writing sessions, would we have had such words?
Named after a drum lick, Rat Bat Blue is a screamer, but possibly for the wrong reasons. Great riff, outstanding drumming, great lyrics exploring the possbility of picking up a slapper for the night "What's your name, can I drive you home?", and some of the best, raunchiest, organ work you'll ever hear. Where's the damn guitar?
Place In Line: Oh, here it is. Go on then, show you can play the blues then. Make the simple notes sing like a gospel choir. Other guitarists take note, it's not how many you play, it's what you play. OK, Jon gets a look-in too, but Ritchie strolls in and steals it.
Our Lady was a direction Ian Gillan wanted the band to head in, more song and less solo oriented. Inspired by Ritchie noticing the sign outside a church, this is a swirling, ascending, religious song "Offer me a ring just to show me your sincerity/I'm dreaming, let me go/Our Lady of the skies". Crank it up, close your eyes and be carried away.
Vetoed from the initial Italian recording sessions, Painted Horse has turned up as a bonus track periodically since it's first outing on "Powerhouse" in 1977. Another wistful Gillan lyric " Thoughts of a winter moon/Warm in a distant room/Why did I fall asleep so soon". Nice.
Bonus Tracks - aside from three most excellent remixes we get a 12 minute studio jam with Ritchie on bass and Roger on the Autobahn. Great stuff that hints at what was to come on the album.
Links
Roger Glover on WDWTWA
Pictures from the recording sessions
Album lyrics
Painted Horse Lyrics
As complete a discography as you'll find anywhere!
Last MkII concerts in Japan
Typical setlists from 1973
Mash's list of every gig ever.

Other Reviews
The DPAS
Paul Mather's review. "Horrible" he says, yet thankfully you are entreated to buy the CD from the doomed Boxman.
George Starostin's review.
EMI Sweden's take on it. Netscape hostile so beware.