Specials directory
Anniversary remasters
Other studio albums
Live albums
Purple history
Obituaries
Miscellaneous
Discuss it
Message boards
Home
Special features

The Second Coming Of Purple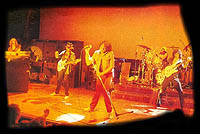 [Click on images for larger versions. Sound files are in Realaudio optimized for 28.8 modems.]
When Deep Purple reunited in 1984 with the Perfect Strangers album, they opened their comeback world tour on Tuesday November 27, 1984 at the Entertainment Centre in Perth, Western Australia. This article looks in detail at this particular show and at the beginning of the Deep Purple reunion in general.
We can be thankful today that someone had the presence of mind to bring a tape recorder to this historically important show. It's not among the best of live tapes, being taped a fair distance from the stage, but the recording is nonetheless clear enough to get a good impression of the proceedings. This recording wasn't circulated among collectors till the early nineties, but by the second show in Adelaide the professional bootleggers were on the spot (perhaps they didn't fancy travelling all the way to Perth?) with the rather good Highway Stars, a double vinyl album from Adelaide November 30, 1984 (Roger Glover's birthday). This remains the earliest reunion show on commercial bootleg. It came in both purple coloured vinyl and black vinyl, one being a bootleg of the other! But back to Perth...
There was a world full of Deep Purple fans waiting out there to catch the return of the band and here at the back end of Australia - clearly the end of the world if ever there was one - they were lucky enough to be the first of them all. The swirling taped organ intro opens up the show and before long they're into Highway Star. You'd not think this was their world debut, judging by their performances; Ian screams like a banshee, Jon's solo sort of rises up from the depths before taking a familiar direction, and Ritchie's solo also follows a well known route. There's nothing obvious to indicate that these musicians are taking the stage publicly together for the first time in many years. Rather, the band members are quite clearly in excellent shape, hungry for the stage after so long away from each other. There's an eagerness and an edge to this show - each trying intensely to do his best.

After Highway Star, Ian Paice quickly counts them into Nobody's Home, played with the same intensity as the first song. Ian screams his head off after this. "It's nice to be back!", elicits a huge cheer from the audience. "We'd like to impress you with what we've learnt over the years. I've become a cunning linguist so I'm going to introduce each song in a different language tonight." Strange Kind Of Woman, in Ian's best pseudo French accent, comes next and the band is clearly rocking. Ritchie and Jon both throw their little licks all over the place and they seem to be really going for it. Halfway through the song they take it down quiet and Ritchie entices Ian into a chorus of Jesus Christ Superstar before modulating into Waltzing Mathilda. The band is treading new ground here and there's a tantalizing hint of the guitar/vocal duel much explored in the old days. Ian fails to pick up on Ritchie's chicken sound picking, though, and the duet never really develops. However, Ian does deliver an impressive, if not very high, wail at the end of the song.
The next song, A Gypsy's Kiss is, apparently, "all about Texas!". Ian Gillan is almost out of breath by the end of this - it's top speed throughout and quite good too, and features excellent soloing from both Jon and Ritchie. Ian manages to mix up the set list and announces Under The Gun next; though he only gets as far as calling it a war song, before realizing that in fact next on the list is Perfect Strangers, causing him to verbally tread water for a second. Perhaps as a result of the confusion, the opening of the track is messy, but they quickly regroup around the theme and charge onwards. The impressive lasers for this song obviously hadn't been introduced this early in the tour - or the locals can't be bothered to react as loudly to it as other audiences did later on. Nonetheless, Perfect Strangers sounds as majestic here as ever - the band is obviously well rehearsed. The audience response at the end of the song is resounding, and Ian reprises his anti-war song introduction for Under Ze Gun (employing a mock German accent!), while someone near the taper shouts for Child In Time. His patience will be rewarded later on.
Under The Gun is taken at a more comfortable speed than it would be later on the tour, with Ian being able to get all the words in here. It doesn't flow as smoothly as the earlier songs had, but Paicey delivers one of his trademark rolls to bring the band back into the song proper after the Pomp And Circumstance quote. Ritchie solos like a man possessed on this one, as indeed he was to do in most subsequent versions of this song.
"I'm not gonna tell you anything about this one", is Ian Gillan's introduction to Knocking At Your Back Door which opens with Jon's imaginative synthesized strings before Roger plugs in. The tempo is picked up by Paicey and when Ritchie starts riffing it out it's a classic in the making. This is another track that inspires Ritchie to solo lyrically and imaginatively as only he can. He's clearly in his element here, with competent backing from Paicey and Roger and tasteful competition from Jon, not to mention a singer with a personality and a healthy amount of humour.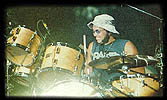 Next, Ritchie unsuccessfully tries catching out the others for the intro to Lazy, clearly amusing one of the locals near the taper. It must have been quite an experience to witness the band go flat out on this classic for the first time in years. Ian rolls out the old 'lunch wrapper' (his harmonica) for his solo break before it's back to Jon and Ritchie outrunning each other on the riff. Ian Paice takes the lead and just keeps going into the drum solo. There's nothing quite like it -- he goes on for several minutes on end. He even does the accelerating bass drum bit, joined by a similar snare drum exercise, after which his rolling around the kit seems endless. A drummer's nirvana. The coda of the song is a bit different, but Ritchie takes them into a blues and wraps it up. Excellent. Or as Gillan puts it: "Ian Paice on the drums, Yeeeeeeaaaaaah!"
With no introduction Jon softly starts Child In Time. The crowd erupts as Ian starts singing and this seems like the first real test of the show. There's a tentativeness here not heard in the other tracks, but once they pick up the tempo to full ahead and Ritchie launches himself into the stratos(caster)phere there's no looking back. He plays a great solo, if a little shorter than later in the tour. Ian's screams clearly show that it isn't 1972 any more, but he's not in disastrous trouble although he does receive some help from an echo unit.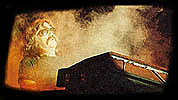 Not at all unlike the impressive intro in Japan earlier in the year with Rainbow, Ritchie takes us into Difficult To Cure next, Eastern scales and all. There is some nice guitar soloing here before the spotlight moves on to Jon and his solo piece. Plenty of rocking the Hammond to produce explosion noises, and zooming up and down the keys to great effect. At one point, the solo turns into a scary soundtrack for some spooky sci-fi movie, complete with apt yells from the crowd. Following that is a bit of rock'n'roll piano with Paicey joining in before a short Für Elise quote and then back to the mountainous Hammond. Jon tosses out one more classical quote, and then Paicey takes the beat into Space Truckin'.
For the reunion the band cut back on the long instrumentals which was one of their trademarks in the early 1970's. But although Space Truckin' is shortened down it still includes fascinating solos from both Jon and Ritchie. from. Jon takes the first and just keeps going. After having been misused and pushed around in Whitesnake for several years, it must have been something of a revelation for him to be given so much room to improvise again -- certainly he's back where he belongs. Ritchie takes the following solo on his own employing a strange reverb effect which casts the sound all around the hall in a false quadraphonic style. I have always wanted an official surround sound recording of this, but sadly for Nobody's Perfect they chose instead the shortened Monsters Of Rock festival version with no solos! After a while Blackmore signals Paicey to join in and the madness continues. There's a quick break near the end with a maelstrom of excellent guitar noise after which the entire band finishes the song off in style. Ian wishes the audience goodnight, and the band leave the stage.

"You've been great. I can't think of a nicer place to start", says Gillan before Paicey kicks off Black Night and their first encore on the tour. Apart from Ian howling like a dog midway through the verse, it is played in a pretty straightforward way. The audience reaction afterwards is phenomenal, and Ritchie starts the Smoke On The Water riff. However, as Ian Paice and Jon Lord join him, he stops and leaves them hanging there for a while, Jon marking time and Paicey keeping up the beat on the hi-hat. Strange. Thankfully, Ritchie relents and returns (perhaps he had a technical problem?) and the song starts in earnest. Jon adds a particularly horrid noise to accompany the lyric about "the gambling house dying with an awful sound", an embellishment he'd later refine to perfection. Ritchie's solo is perfect and very dynamic, and Ian manages to sing his lungs out. The singalong part is obviously yet to be worked out, but the Perth folk have definitely heard the song before!
Ian thanks the audience again, saying "This is our first show in 11 years!", which gets a huge cheer. "We were planning on wearing brown trousers tonight... Thank you for a great welcome!" A small jam ensues as Ian introduces the band: "Just so you remember who we are; Ritchie Blackmore on the guitar! On the drums, from Bristol (?), little Ian Paice! From Oxbridge, he hasn't changed at all, the stinking hippy, Roger Glover! The man... on the organ, from Harrods (laughter), Jon Lord! Perth, best of Australia!" After the song the crowd clearly hasn't had enough, but that's it. The debut show is over, and a very fine show indeed in which they'd done themselves proud.
Following Perth and Adelaide Deep Purple continued on to New Zealand for one show (with two more cancelled, due to poor ticket sales of all things!), at which Smoke On The Water was done without Ritchie - an early sign of things to come? They then returned to Australia where they did an impressive three consecutive nights in both Sydney and Melbourne along with two nights in Brisbane. George Harrison was in Sydney at the time and made a surprise appearance with the band on December 14 doing a slowed down Lucille - at least compared to Gillan's own breakneck tempo of the song!
Eric Clapton was touring these parts of the world at the same time as Deep Purple and one story had the two bands staying at the same hotel somewhere in Australia. That night Ritchie felt like a bit of jamming in the wee hours and thus instructed his roadie to bring a Marshall stack and guitar to his room. The racket was soon stopped though, when one of Clapton's huger-than-huge roadies took a dislike to having his sleep disturbed and in no uncertain terms told the perpetrators to cease!
After a break over Christmas and the new year, the band hit North America on January 18 for what became the most successful tour of the States in 1985, grossing close to 7 million dollars - second only to Bruce Springsteen. This leg of the tour lasted until early April, after which it was Japan and Europe, rounding off their massive return to the stage with another visit to America in August. Deep Purple were back with a vengeance.
Perth set list
Intro
Highway Star
Nobody's Home
Strange Kind Of Woman
Blues - A Gypsy's Kiss
Perfect Strangers
Under The Gun
Knocking At Your Back Door
Lazy
Child In Time
Difficult To Cure
Space Truckin'
Black Night
Smoke On The Water
Perfect Strangers World Tour - Australia and New Zealand Dates
Nov. 27 1984 Perth, AUS - Entertainment Centre
Nov. 30 1984 Adelaide, AUS - Memorial Drive
Dec 1 1984 Auckland, NZ - Western Springs
Dec 4 1984 Wellington, NZ - Athletic Park 19 cancelled
Dec 5 1984 Canberra, AUS - Bruce Indoor Stadium
Dec 7 1984 Christchurch, NZ - QE II Park - cancelled
Dec 9 1984 Brisbane, AUS - Festival Hall
Dec 10 1984 Brisbane, AUS - Festival Hall
Dec 12 1984 Sydney, AUS - Entertainment Centre
Dec 13 1984 Sydney, AUS - Entertainment Centre
Dec 14 1984 Sydney, AUS - Entertainment Centre
Dec 16 1984 Melbourne, AUS - Entertainment Centre
Dec 17 1984 Melbourne, AUS - Entertainment Centre
Dec 18 1984 Melbourne, AUS - Entertainment Centre
Thanks to Nigel Young for use of his invaluable compendium of concert dates.
Please send all comments and corrections to Rasmus Heide.
Donor Section






Subscribe to:
The Highway Star Update!
Participate in:
Purple discussions
Join the:
Mailing lists
Purple Tours
Tour Dates
Tour Reviews
Purple Music
Shop
Upcoming Releases
Discographies
Lyrics/Tabs
Sound Archives
MIDI Archives
Movie Archives

Other Sections
News
Frequently Asked Q's
Image Gallery
Purple Contributions
Interviews
Special Features
Editorials
Bios/Family Tree
Newsgroup/IRC
Joanna's Gossip
Links
Who To Blame