Roger Glover equipment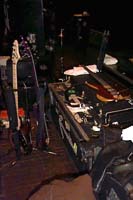 Basses
Vigier
Rickenbacker
Tobias
MV Pedulla
Here's what Roger Glover said about his basses in alt.music.deep-purple a while ago:

Subject: Re: Rainbow Smoke, Purple bass stuff
From: (BAsec5)
Date: 25 Jul 1995 03:43:46 -0400


nobody@cs.utexas.edu wrote:

>Roger - what bass are you playing nowadays? 
>I've seen you with one of those Steinberger 
>thingies with no head and precious little body 
>(bit like myself really), and also the classic 
>Rickenbacker. Still use these?

The Steinberger was favoured a few years back, since then I've had a love affair with TUNE (A Japanese company, now sadly wiped out by the earthquake), and I have a Tobias and a Pedulla which I'm currently investigating, but my favourite bass as I write is a Vigier (French). I've been unhappy with the sound of the Rick, and trundled it out on Smoke - more for the looks than the sound - but it now has a new nut and sounds a lot better. It's a great looking bass IMO.
RG
---

Roger participated in a AOL chat where a discussion on his basses came up:
Q: I saw a Cologne 93 video and you play on a Rickenbacker bass - it really cuts through. You used the Rickenbacker bass on the encore - why not use it in the set? It has a great bright deep bottom.
RG: The Rick is hard to play, sounds dodgy to me but recent work has improved it. who knows?
Q: What is your set up now? On the album? On the tour?
RG: I'm playing a Vigier, which looks really like the Rick, and the sound isn't far off either.
Q: Where are these basses from?
RG: They're French basses. I have 2 of them.
Q: How many basses do you own?
RG: Other basses... I don't like to sound flash but I don't know. 15 or 16 I suppose.
Thanks to Michael Friedman and Roger Glover for providing the info.
---