Ian Gillan equipment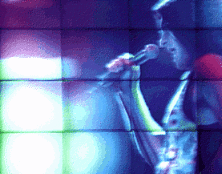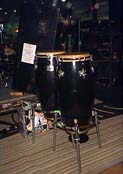 Shure SM58 wireless microphone
Hohner harmonicas
Congas of an unknown brand
Thorsten Nickel on Gillan's harmonicas:

Newsgroups: alt.music.deep-purple
Subject: Big IG's BLUES HARP...
From: (Thorsten Nickel)
Date: 23 Sep 1996 16:06:35 GMT

For the DP-instrumental departure, here some details on big Ian's Harp played in Bristol Colston Hall February 21st 1996. For my musical understanding on "Rosa's Cantina" , which is on the studio releas at first in blues scale of G but modulates to A, as Jon Lord once explained to me. That means in studio Ian needed 2 harps : on in key of C (for the Blues scale in G) and the other one in key of D (for a blues scale in A).
For that Bristol performance the question on musical aspects is: did DP modulate on "Rosa's Cantina" from G to A, that means Ian would have also played a harp of key of C?
Facts on Ian's Harp:
It is a Hohner MS Blues Harp , key of D with a wooden comb of pearwood (for airtightness), silver covers, which shows the name "BLUES HARP" and brass reedplates of 0.9 mm thickness.

There are also 3 screws to fixiate the reedplates and 2 for the coverplates.

On the reedplate in blue letters : 1-216.101-1011 /1 4793 D. The reeds look like somone did special filing. It is of excellent tuning quality :-)

Ian's harp is obviously seldom played, Typically Black spots on the reed plates are hard to o find. Especially the pearwood comb looks pretty new. Usually it shows indefinable dust and dirt from lips... The reedplates are a little green, but i wouldn't clean them with a metal dish washer at the moment ... There is also no dark spot from hand sweat on the covers, so it could easily be cleaned with a little alcohol and foulard. (all these you would find on mine, but that's always the same if you are working for another harper... you don't have enough time to spend on your own harps ugh ;-)

That BLUES HARP model came out in 92/93 and a bit holes in the comb, but many harpers requested for smaller one and Hohner made some improvements in the following years, but didn't change name. so i would call Ian's Blues Harp a Pre-MS one, a REAL RARITy. Although there may be many of them out but only for few years... I remember a photo Ian was given a complete set of twelve harps in Trossingen a few years ago, when DP toured in Trossingen's region in some big town (a tour schedule would tell us...)

if you like to see that model check out http://www.hohnerusa.com/html/diatonic.html (you also find my alltime fave there the Cross Harp and the fascinating 100th Year Anniversary story...)

Thorsten
---
Doug MacBeath followed up with this info:

Newsgroups: alt.music.deep-purple
Subject: Re: Big IG's BLUES HARP...
From:  (Doug MacBeath)
Date: 24 Sep 1996 23:02:14 GMT
A friend of mone got Ian's harp at both the 1993 Birmingham gig, and again at Aberdeen this year. In both cases, it was a Honer GLH (Great Little Harp). This has a plastic comb, rather than wood, and works out at about 1/3 the cost of the Blues Harp. After all, would you throw a 15 quid harp away every night?
Cheers,
Doug MacBeath
---