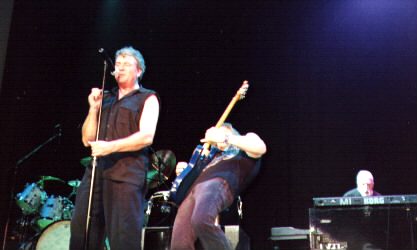 On the eve of Deep Purple's 2002 US Tour, here's an open letter Gordon Thrasher sent to The Highway Star:
This was written for the members of Deep Purple, for The Highway Star staff and for anyone else who loves the music of Deep Purple:
A true fan's insight
I recently submitted a review of a Deep Purple show to The Highway Star. I was very pleased that they chose to post it, but I was also surprised because it was of a more personal nature than reviews usually are. It was the weekend of our 23rd wedding anniversary and it was our first concert together. I had never seen my favorite band live so it was a big deal for us. And we weren't disappointed. The show was fantastic.
Deep Purple's music is like vintage wine - it gets better with age and you become intoxicated from it. A euphoria envelopes your very being and you become one with the music. I was with the woman I love, listening to the music I love. Yes, it was very personal.
I don't have 500 Deep Purple CDs (131 at latest count). I don't have every video (I have four). I don't have a closet full of apparel (only three shirts, two caps and two pins). I haven't been to 50 concerts (just one, I'm sad to say). I've never met any of the members of the band (but I can dream, can't I?). I do have an album with all of Mark 2's autographs (I need yours, Steve). I haven't done a lot of things that one would expect of someone who is a die-hard fan. And yet, I am one.
Being a fan of Deep Purple is not something I chose to be - it just happened. Their music becomes a part of your life. Certain songs trigger different memories of different events and feelings. Can you remember where you were and what you were doing the first time you heard Smoke On The Water? I can. I was cruisin' down route 220 with my best friend in his '67 Mustang - I bought Machine Head the very next day.
The music and the band become a part of what you are. As much a part of your life as your family and friends. Whenever I need a lift I put on some Purple. It brings a smile every time.
At the show last week, I saw my old friends on stage, doing what they do best. Even though I have never met any of them, a warm, comfortable feeling of kinship came over me. I was excited to finally see them in person, and yet, I felt as if I'd known them forever. Like seeing a friend you haven't seen in a long time - renewing the bond between you. An inner peace and contentment rarely felt in today's hustle and bustle. I was very happy.
My wife and daughter have become Purple fans as well. My daughter's favorite song is Strange Kind Of Woman. My wife's favorite is Perfect Strangers. I can't pick a favorite - I like too many to be able to choose.
I would like to take this opportunity to say thank you to all the members of Deep Purple (past and present). The music you have brought to all of us is a testament to your talent and your devotion to the perfection of your craft. When the music touches the soul and warms the heart, you have reached the pinnacle of greatness. This is your legacy. And you've been there for a long time. No one ever has or ever will do it better.
We love you, Ian, Roger, Jon, Steve and Ian. Purple Forever!
A True Fan,
Gordon Thrasher
Cumberland, MD, USA
Photo: Jennifer Stokes - Sydney, Australia March 10, 2001
Edited by: Rasmus Heide