Gillan visits Glen

Backstage?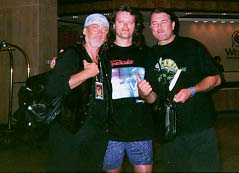 By Glen Miller, Aug 26, 1997

Frequently us fans get to hang around backstage at concerts and try to sneak into dressing rooms, which are, so to speak, the artists' temporary residences.
Recently, a well-known rock singer got himself the equivalent of an all-access pass and managed to sneak into Glen Miller's permanent residence. Here's the whole incredible story.
Donor Section






Subscribe to:
The Highway Star Update!
Participate in:
Purple discussions
Join the:
Mailing lists
Purple Tours
Tour Dates
Tour Reviews
Purple Music
Shop
Upcoming Releases
Discographies
Lyrics/Tabs
Sound Archives
MIDI Archives
Movie Archives

Other Sections
News
Frequently Asked Q's
Image Gallery
Purple Contributions
Interviews
Special Features
Editorials
Bios/Family Tree
Newsgroup/IRC
Joanna's Gossip
Links
Who To Blame