BUENOS AIRES, HOT PERFORMANCE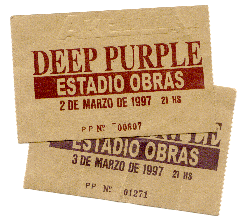 I saw Deep Purple for the first time last year in the North American Tour.
I flew from Argentina specially to Chicago, Kalamazoo and Detroit , because I think that Deep Purple is the most important rock band in the world. I've enjoyed Deep Purple since 1979 when I was 14 years old.
Those concerts in North America were terrific, and the concerts in Argentina were terrific too.
I saw Deep Purple in "Obras Sanitarias" (Buenos Aires, Argentina) March 2nd. and 3rd.
The place is beautiful (6.000 persons per day), the view is fantastic since anywhere you stay.
So, all the people enjoyed the concert.
Some of the most important bands played in that same place. For example (Emerson, Lake and Palmer '93, Ian Gillan Band '90 and '92, Black Sabbath '92, B.B. King '92 and '94, Rick Wakeman '93, Chuck Berry '93, Jetho Tull '93, Living Colour '93, Kiss '94, Yes '94, Ozzy '95, Iron Maiden '96, etc, etc.).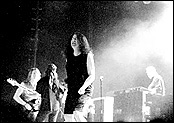 For me, the best versions in the concerts were: Woman from Tokyo, No one came and Black Night, and the Purpendicular's versions sounded fantastic.
Mr. Jon Lord is an old white genius in his keyboards. Steve Morse is a great guitar player and he replaces Ritchie very well. Ian Paice, still keeps all the power in his hands and Roger Glover was great on bass.
I think, that Ian Gillan is an old and carismatic singer and his voice was great.
The sound was perfect, and the set light was ok.
The people in the concert jumped and shouted the riffs all the time and the musicians were surprised and happy, These concerts were the hottest, that I remember.
I'm very happy, because Deep Purple is still alive !!.
The set list was: (March 3rd.)
Hush.
Fireball.
Ted the Mechanic.
Pictures of home.
Black Night.
Cascades.
Woman from Tokyo.
The aviator (I love this song)
Rosa's Cantina.
No one came.
Sometimes I feel like screaming.
Smoke on the water.
When a blind man cries. (was great)
Speed King.
Perfect Strangers.
Hey Cisco.
Highway Star.
6.000 people sang and the band accompanied us.
Thank you very much to DP home page, because it allows me to get to know the DP's tour in North America.
---
[ reviews | the highway star ]