Review Of Santo Andre Gig - 9 March/97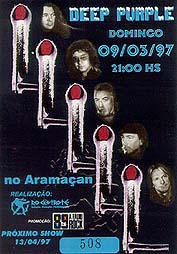 And so , after six long years of absence, they are back here... seeing (and, mainly, listening to ) DP on stage with Gillan was something that seemed just a dream, when they first played here with JLT, in 1991.
But, at 9:05 P.M., it was real!! The Aramacan Gymnasium was crowded with the kind of atendance DP is now used to play for: 15 to 50 years old people, Screaming and shaking heads at every little bar!!
"Hush..Hush..", the 30 years old hit started the great night. Sound quality something strange at the beggining, but improved after some time!! TMIB, well, I think he was soon forgotten, as Steve's guitar was heard! Lord, absolutely fantastic, his playing reminds me of something distilled - the older it gets, the better it becomes!! Glover and Paice, in very good shape, and Gillan... who else can sing Smoke on the Water or Highway Star?? His voice was superb, clear, great... With a smile on his face, almost the whole concert...
Deep Purple has never left to be one of the best, even on JLT time, but something is amazing different now, the whole band seem to enjoy playing every music of the set - and what a set:
Hush
Fireball (with Into The Fire's riff at the end)
Vavoom: Ted the Mechanic
Pictures of Home
Black Night
Cascades: I'm Not Your Lover (Stunning Steve's solo)
Woman From Tokyo
Sometimes I Feel Like Screaming (Great!! Steve and Roger doing backing vocals (!?))
Rosa's Cantina
No One Came
When a Blind Man Cries (Whole Band Beautiful performance)
Smoke on the Water
Speed King (Prelude was Jon Lord playing "Aquarela do Brasil", a Samba, on piano!)
Encore
Perfect Strangers
Hey Cisco
Highway Star
Almost 1h50 of Deep Purple, Great and Magic, as they have always been for almost 30 years!!
---
[ reviews | the highway star ]