Big Night in Buenos Aires ...... Argentina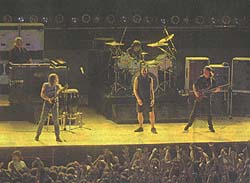 Hi all .....
From Argentina ..... so far ...... and so near with Deep-purple.com
After 29 years .... Purple play in Buenos Aires ..... and all have a Great Night.
Place ....... Stadium Obras Sanitarias - Buenos Aires - Argentina
Date ..... March 1 , 1997 10 PM ........ People ...... 6000 Hungry Souls.
Fans from Bogota ...... take a Bus , take a fly ..... and go to Brazil, Bolivia, Peru don't forget to see this Show. Argentina fans will never forget it.
Excellent perfomance from the Band. I dont miss Mr. Blackmore.
The Sound was best ...... and could be better .....low level of Gillan's vocals in some songs
The Set list:
Hush
Fireball
Ted the Mecanic (Excellent live version)
Pictures of Home (One of the best of night)
Black Night
Cascades
Woman from Tokyo
The Aviator (Excellent live version)
Rosa's Cantina
No one Came (Another best of night)
Smoke on the Water
When a Blind Man Cries
Speed King
Encores:
Perfect Strangers (Great and emotive encores)
Highway Star
And the people will never forget this emotive show in Argentina.
Mario R. Zeller (37) - Thanks to Gillan,Glover,Lord,Paice & Morse.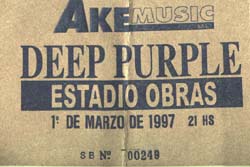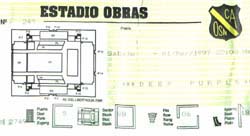 ---
[ reviews | the highway star ]