The Lima's deepest purple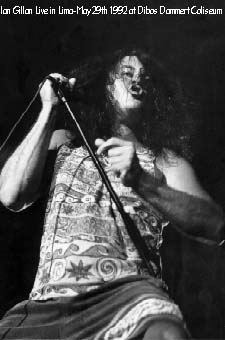 The appointment was made in 1972, when i heard Child in time for first time, i was a school boy. And the only reference we had about the band was "... the singer is the same who plays Jesuschrist Superstar".
It had been passed 25 years, i caught all the members of the band playing in others, Jon and Ian playing with Whitesnake at Shibuya Kokaido in Japan, Roger and Ritchie playing with Rainbow at Nippon Budo Kan Hall in Japan too and Ian when he arrived to Lima in to play with his band Gillan.
And now we had the chance to see them on stage, good comments about the band with Steve Morse, about the record Purpendicular, about world tour.
The show was programed to 08:00 pm, but started at 09:10 pm (we could wait, we had waited 25 years, so we can do for 70 minutes more), the show followed:
Hush
Fireball (finished with the Into the fire's riff)
Vavoom: Ted the mechanic
Picture of home
Black night
Cascades: I'm not your lover
Woman from tokyo
Sometimes i feel like screaming
Rosa's Cantina
No one came
Smoke on the water (Steve's great intro)
When a blind man cries (the same: great intro of Steve)
Speed king
At the middle of the show Gillan began to cough, but at the end of the show it became a trouble, he could't make the gig vocals & guitar with Steve on Speed King." Something in the air or weather" he told to Steve, it could be heard bye the speakers.
ENCORE
Perfect strangers
Highway star (this song was waited all the show, the people began to sing with the band, Gillan couldn't sing except a few worlds)
Gillan showed the High quality profesional who is, Steve played and showed he is not the replacement for the guitar player who's gone he showed he is the energy Deep Purple needed to get the top at their best. Jon, Roger and Ian P great perfomance.
The band played relaxed and Gillan with a great smile in his face, and really the enjoyed their perfomance.
Ritchie? Ritchie who? Nobody missed Ritchie Blackmore
The appointment was over, long live Deep Purple, welcome Steve, keep on screaming Ian ...
...and i hope not to wait 25 more years to see you again

---
[ reviews | the highway star ]