Show in Curitiba
Dear friends fans of Deep Purple,
It's been more than a week from the day of the show and until now I couldn't forget it. It was the second time that Deep Purple played here in Curitiba, the first one was with Joe L. Turner at the vocals and it was good, but I missed Ian Gillan. This time Steve Morse came in the place of our friend Blackmore, but with all due respect, I did not missed him.
Last year I went to Rainbow's show here in Curitiba and I thought:
It was the best show I have ever been!
Then came up Deep Purple and I must say:
There won't be a better show than this for me to go.
The band was terrific and they have never met an audience as hot as this one here in Curitiba. The sequence of songs were perfect for every fan. I will keep this show forever in my mind and for those who hadn't the chance to be there, here goes a picture taken by me at the show. Unfortunately it is not a good picture, due to my camera limits, but the image is saved!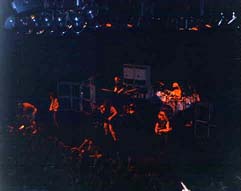 Live Long for all my Perfect Strangers friends,
---
[ reviews | the highway star ]