Total Abandon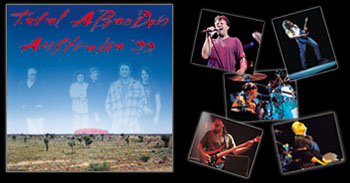 Last spring, Deep Purple made their triumphant return to Australia after a prolonged absence.. As they hadn't been back to Australia since they launched their historic reunion tour there nearly 15 years earlier, it was decided to take advantage of this rare opportunity and keep a permanent record of their visit.
And so the complete concert of April 20 at Melbourne Park was captured on both video and a 2CD recording. The set list from that night is a blend of enduring classics and stellar new material:
CD 1
1. TED THE ELECTRICIAN MECHANIC
2. STRANGE KIND OF WOMAN
3. BLOODSUCKER
4. PICTURES OF HOME
5. ALMOST HUMAN
6. WOMAN FROM TO KAY O
7. WATCHING THE SKY
8. FIREBALL
9. SOMETIMES I FEEL LIKE SCREAMING
CD2
1. SMOKE ON THE WATER
2. LAZY
3. PERFECT STRANGERS
4. SPEED KING
5. BLACK NIGHT
6. HIGHWAY STAR
(if you would like to read some firsthand accounts of that evening, visit the reviews page).
Ever since fans worldwide were made aware of the possiblity of there being a professional recording (video cameras are hard to miss, and the Internet Deep Purple newsgroup spreads news like this very quickly), they have been breathlessly waiting to see if the rumoured treasures would materialize -- and the wait is over!!