The blizzard from Oz
The line-up of Living Loud is a veritable feast of rock alumni.
Steve Morse - guitar
Don Airey - keyboards
Jimmy Barnes - vocals
Bob Daisley - bass
Lee Kerslake - drums
Latest news:
A live DVD of Living Loud's second show is now available (see shop links to the left) and we have a review and visuals from the DVD. The album has also been re-released with two live bonus tracks (Crazy Train and Good Times) (see shop links to the left).
Bob Daisley, Lee Kerslake and Don Airey were members of Ozzy Osbourne's Blizzard Of Ozz band in the early 1980s. They played on and toured with his first two solo albums, Blizzard Of Ozz and Diary Of A Madman. The new album from Living Loud includes six of the songs they recorded with Ozzy and five new originals.
Revolving around an old dream of Bob Daisley and Lee Kerslake's to re-record some of the hard rock classics they first wrote for Ozzy Osbourne in the early 1980s, Living Loud grew into a full blown album and band project when Daisley and (Osbourne drummer) Kerslake managed to interest Deep Purple's Steve Morse and Don Airey in the project. To handle vocals they enrolled Australian rock icon Jimmy Barnes, also familiar to Deep Purple fans through a number of guest appearances (not to mention the somewhat unbelievable rumour that Barnes was on the shortlist to replace Ian Gillan in 1989).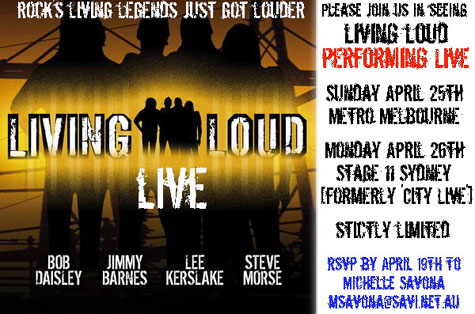 Media invite for Living Loud's live debut shows
Being a sideline project, Living Loud has so far managed two live appearances. Making the best of Deep Purple's extremely successful Australian tour in April 2004 and the fact that Barnes and Daisley reside DownUnder, Living Loud made two after-hours appearances in Sydney and Melbourne. Read the reviews
The future of Living Loud is wide open, but the fact remains that Daisley and Kerslake finally got their say in how their original songs should be played.
Did you buy this? Please send us your review
This special last updated December 11, 2004