The Vultures were hovering

"Look at 'em," said Jeff Crozier, "they're hovering like vultures!" Jeff pointed to the small platform on top of the stage where a gang of local rock muso's were watching the Deep Purple, Free and Manfred Mann like hawks... picking up all the tricks they could... and there were a lot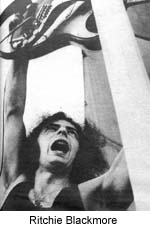 of tricks to be picked up from Free lead singer Pail Rogers. He was singing brilliantly and rocking all over the stage at the same time, not missing a beat, never going off key...
Andy Fraser cattin' around with his bass guitar... Ian Meldrum took one look and went running towards the stage claiming he needed an interview... he warned Andy that our own Mitchwas waiting to pounce, and Andy showed a lot of interest... By the time they rocked out "All Right Now", the audience was wild... but there wasn't mich space to rock around in... every seat in the hall was filled, and along with Russell Morris and others I was standingin the back balcony... in fact, the place was so packet that Ross Wyllie was actually propped up on the stage... half expected to do "The Star" with Deep Purple backing him, but Ross was only there to watch.


Manfred Mann came on and stunned 'em... for me, they were the best thing of the night... Chapter 3 are a beautiful sound... Manfred himself gave a display of effortless showmanship and his playing was astounding... We always knew about Mick Rogers' talent, but seeing him in this kind of musical company was quite awe-inspiring... Russell Morris was only one of the people knocked out by Mick's guitar-playing, and his lead vocals. His singing is beautifully mouled to the group's sound. Mick may be at the top luvvies, but he hasn't forgotten us... "I recognise a lot of faces from Berties, Sebastian's and the Tum" he told the audience... and little wonder, because it seemed that everyone in Melbourne was there, which only goes to show that rock-freaks WILL turn out for a show that features a world-class line-up... Manfred Mann rocked into their "Mighty Quinn" hit and the whole place was clapping and singing along with them... like Free, the crowd screamed for more when Chapter 3 left the stage...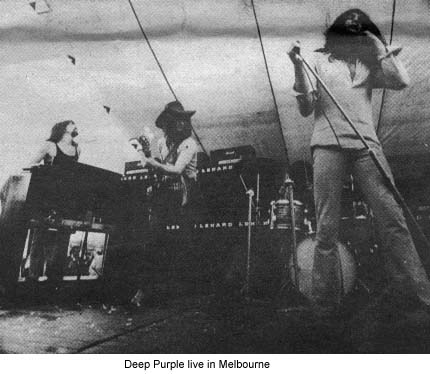 Between each of the acts there had been a long delay while equipment was being set up, but Deep Purple proved themselves to be the Prima Donna's in this department... We had already received reports that the group left the stage in Perth because they weren't pleased with their equipment, and now they were spending a good deal of time fixing an amp which had been blown out. Their performance turned out to be a very long one, and im my opinion very uneven in quality... some of it was brilliant whilst other parts were boring... They must have enjoyed their playing though... the performance went on till 1 a.m. Around about 12.30, several people in the audience called it quits and left (Russ Morris, who had been looking forward to seeing them, was one of them), but Deep Purple just kept right on playing while a strobe light filled Festival Hall. Here's a quibbling complaint: Deep Purple are such a musically competent group that it seems to take a lot of the excitement out of their act. And another point: everyone applauds drum solos, but how many people really enjoy them? When Deep Purple drummer Ian Paice began his solo the rest of the group left the stage and so did my interest... but Deep Purple are one of the world's top groups and they contributed to the most exciting concert we've seen this year.

---
Article © GO-SET 1971. // supplied by Colin Hadden.
HTML work by Andreas Thul. // © The Highway Star 1998.