MH25 - a review
This is the best 25th Purple anniversary reissue so far. It might lack the "working tapes" stuff that DPiR25 and Fireball 25 had, but overall it's stunning in terms of how much it improves on the original. If there is one claim true about it, it's that you'll file away your old copies for good. That it sounds better than the crummy (supposedly remastered or otherwise) CDs is definite, it sounds even better than the old vinyl! Just think: to hear the first few bars of Smoke... and hear just the guitar, and not the tape hiss that for so long went with it!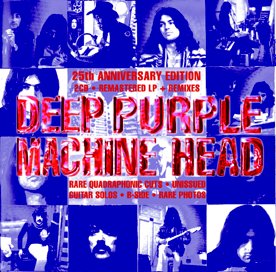 It's a 2 disc set, the first CD includes the whole album remixed, and it's a surprise right from the word go : Highway Star begins with a drum beat and guitar parts that are not there in the original, and then goes on as normal (apart from some weird revving organ noises during the guitar solo, much like the ones Steve Morse makes on current live versions!). Maybe I'm A Leo (take one, no less, as the engineer reveals!) fades out later with more guitar, and Pictures of Home begins with a very short guitar flurry and a much longer drum intro, which has to be heard to be believed! This is Ian Paice Band time, no mistake about it! Gives new meaning to the terms "thundering away", it's a sheer joy to listen to it so loud and clear.
Smoke on the Water is a major surprise : it's now 6.08 long, lacks the phasing fade-out effect and instead near the end it's got beautiful improvised screams and vocalising (he even says "break a leg, Frank!") from Big Ian, and more keyboard parts. This MUST be a single! Never Before and Lazy are much as the normal versions, while Space Truckin' ends not with a fade but abruptly when they sort of mess the ending up and it comes out very amusing. Jaw-dropping time comes with When A Blindman Cries : it starts with a loud keyboard and guitar part, not just the bare hi-hat beat the version we knew began with. It's almost like a newly recorded version. I can't really describe how it is improved, you'll have to listen to it.
Disc 2
Disc 2. It includes the whole album remastered, no different endings or beginnings this time, just the full LP as it was (incl. When A Blindman Cries), but sounding much better. Tacked at the end there is Maybe I'm A Leo and Lazy (quadraphonic mixes). Leo sports a completely different first guitar solo (the final one is the same) with lots of string bending and tremolo bar work. Lazy on the other hand has two guitar solos that are obviously different takes but quite similar to the "normal" edition. (This must sound so trainspotter-ish to anyone who reads this and isn't a complete Purple nut :-)
I can't really comment on packaging and the like, as my copy comes in just a gatefold sleeve that replicates the original, no notes, photos or anything.
As I said : now I can give my original UK 1972 copy a decent and well-earned retirement, as I can't see myself playing it anymore. This is the definitive Machine Head, and if EMI don't give it the full promo treatment they are criminals. This is epochal, much better than the bullshit that passes for landmark rock albums these days (not to name any names).
Stathis N. Panagiotopoulos
Deep Purple Appreciation Society, Greece
P.O. Box 50322, Thessaloniki 54013,Greece