Entertainment Centre Adelaide Australia 19th April '99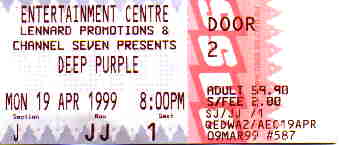 The support band Frieght Train kicked the night off but everyone there young to matured had came to see the main attraction DEEP PURPLE.
When Deep Purple hit the stage the place erupted the crowd standing for the whole show and gave them a very warm reception. DP started with "Ted the Mechanic", the rest of the set list was the same as being noted in the Perth section. The backdrop was from the back cover of Abandon.
They played for 2 hours which went too bloody quick, some of my old favorites missing but still a good selection of old and new. IG explaining how and why some songs came about and with some good humour. The solo's, the jams and the solo's unreal, SM I think stunned the crowd with his solo, JL's and IP solos were just as good, RG what a rocking bass, to sum it all up the whole band played their part with such enthusiasm and had the crowd going for the entire concert, jumping, dancing, swaying, singing, fists in the air.
DP showed how they have been around for so long and they are enjoying it plus they sounded and looked great. The show was over all to soon after "Highway Star", the seconded encore.
Fans outside talking about there highlights of the show, plus a few new ones who came to see what it was all about.
One of the best concerts I have seen and will remember for a very long time or until the next DP show.
It's a pity they didn't make it to New Zealand but maybe next time, anyway the trip over to Australia to see them was worth it.
One final note - whoever markets the band's merchandise: they need more of a selection available. :-)
---
[ reviews | the highway star ]