Tatti's report
For me Deep Purple is something very personal and I'm going to try to explain why. As a kid I spent one entire summer listening to my brother playing the classic riff - dern dern dern/dern dern de-dern - 24 hours a day. And the volume was set on 11. By the end of that summer I was ready to rip his head off, if he so touched his guitar. In my late teens I saw this band in a club that played great music. This was GOOD. Then I hear: dern dern dern/dern dern de-dern. And I'm on the floor kicking and screaming like a 4 year old. But I finally got to hear the whole song. And did I ever listen! I had to ask the guys afterwards what it was and they told me they played Deep Purple, Whitesnake and Rainbow songs. I was hooked. Line, sinker and all.
Eventually I got to see the spin-offs i.e. Whitesnake, Rainbow and Gary Moore with Ian Paice. Mom gave me my first Deep Purple album for Christmas and it was MIJ. The collection grew, but is still not complete. I'm very selective with what I buy and only get what I think I really need.
Anyway - I managed to meet the guys and got to be friends with them. Then DP reformed and life was hunky-dory. And I've seen quite a few shows since then. Which brings us to Lahr. I was on the IRC chatroom and got approached by Olle. He asked me if I was Swedish and planned to go to Lahr. I said I was thinking about it and eventually I decided to go. I had been "talking" to Svante and Benny about trying to get a car together for going there and here is Olle saying he wants to go and that he is willing to provide the means of transport. Right, that's me on the e-mail to Bruce Payne and Roger. Roger passed my message on to Colin and Bruce said it would be fun to meet again. Now how could I resist not going. So on the morning of July 4, Benny picked me up. I was slightly rushed as I had overslept and had not prepared completely. We hit the motorway and I realise I've forgotten something. Back to my flat again, pick the thing up and off we went. I then told Benny that if I have forgotten anything else we would not turn back. I would later come to eat my words.
In Halmstad we connected with Olle, who was stood behind his car eagerly waiting for us. We moved our gear in to his and off we went. The drive down to Hannover,, which was our first stop, was taken in a leisurely pace. We arrive around ten at the meetingpoint. The pub Fleedermaus. My favourite hangout in Hannover. Outside the door I saw my friend Uwe pull up with his car and I just shouted at him. Haven't seen him in a long time and he's like a brother to me. Then Klaus comes walking around the corner and I was all smiles. We had a few beers in Fleedermaus, then took off to a Turkish joint to have something to eat. That's when we realised that we were completely nackered and in dire need of sleep. So off we went to Klaus' place and as we walked in so did his oldest daughter Inez. Wow, has she ever grown up and what a beauty! Haven't seen her for 5 years. Benny and Olle passed out rather quickly but me and Klaus stayed up for a chat.
July 5, and we get served a breakfast table laden with goodies. Hey, the hotels have a hard time knocking this! After a glorious breakfast with Klaus and his family it was time for us to get a move-on down to Baden Baden. But first we had to change to German money so we went into town. And now is when I start eating my words. I have realised that I have packed nice clothes to wear but forgot the heels. All I have is my sneakers.
Today's shoe fashion is not really up to my taste and there was a snowball's chance in hell that I would find a pair that would fall in my taste. I gave up after a good search. So we took off. Now it was my turn to drive. He he.
Closing in on Baden Baden I decided it was time to have a smokers break and to try out the various outfits I had brought along to see if anything would match the sneakers. There was no way I was going to walk in to a 5 star hotel in jeans and T-shirt. So here I am on a roadside parking somewhere in Germany changing clothes in broad daylight. Naturally Benny decides that this is the moment to bring out the camera. Well, thanks a lot! The decision was made and we continued our journey. I called Bruce once we passed Mannheim and said that we would be at the hotel in about an hour.
And we timed that perfectly.
I walked in ahead of Olle and Benny who was parking the car. Colin Hart and Rick Lamay was in the bar. Hugs and handshakes were exchanged and a beer was quickly placed infront of me. Colin said they were off to a rehearsal later, but they were just waiting for Ian Paice to turn up as his flight was running late. Benny Olle and I grabbed a table and soon enough Bruce Payne was there to join us. More beers and more laughs and hugs. One by one the band start showing up. Paicey's flight had landed in Stuttgart and after a drive to Baden Baden he arrived at the hotel and later the bar.
Time for a quick German Pils and they were off. So were we, to find a hotel and something to eat. We'd join them later again at the hotel.
Now, Baden Baden is situated on the foot of a hill/mountain. In other words, you literally walk up and down the streets, which is exactly what we did before we found a place to stay. Being a weekend and a spa area, it wasn't easy. Two hours or so later we were back at the hotel. And we didn't have to wait long before they all started showing up.
The two Ian's and Bruce had some business to talk through but once that was done Paicey joined us at our table and said: "They started talking about the old days. I've heard those stories before." Hey, haven't you lived those stories. Anyway, we had a lot of laughs and talked about most things.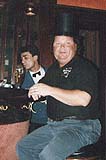 Then Charlie gets his hands on the champagne hat. Benny janked up is camera in no time. The shot is a classic. Seconds later Colin gets his hands on the same hat and Bruce starts shouting for us to take a picture of this.
We're way ahead of you Bruce. And that's how the night went on. These guys love a good laugh. And wouldn't I be the next subject. All of a sudden Paicey points at my sneakers and says: "Nice shoes. Very sexy. Goes well with the outfit." Crooked smile on face and all. Benny, Olle and me lost our wits for a while and cracked up laughing. I started trying to explain that there was a story behind this. But we needed Roger at the table for this.
OK, those of you who have the heard the story on IRC about the Silver Tipped Electric Pepper Grinder knows what I'm talking about. Dave Hodgekinsson told me to e-mail the story to Roger which I did. Turns out that Roger hasn't read the story but have the e-mail on disk in his room.
So he goes upstairs to get it. 15 minutes later and no Roger we stretch our legs and take a walk around the lobby. All of a sudden out of the lift comes Rog, palefaced , open-mouthed and wide-eyed. "I don't know what it said, but it just crashed my computer." We just stared at him. "I found the e-mail and when I was going to open it my computer crashed and the thing disappeared from the disk. It's gone." Right, OK, back to the bar, a round of beer and I have to tell the story, which should have led to me wearing a silver dress that night. But that would not have gone well with sneakers. I'll never forget to pack heels again in my life. I promise!
It was "bye bye" time for that night, and "see you all tomorrow". And we were off to our hotel. When ever they closed the bar I don't know. But I remember Charlie shouting: "Hey guys. Listen up. This is my crew at 3 am in a bar, and we have to get up at 7 AM IN THE MORNING!!" The only result he gained from that was everybody laughing their heads off, including himself. And now it's July 6. D-day, or maybe it should say DP-day. Anyway, I woke up to churchbells, flushing toilets and bathtubs being filled. Considering that I had quite a few of the old brewskies the night before I wasn't to happy. But the foul mood was quickly gone once I started thinking about the night before, and soon enough I had a big smile on my face. The hotel we had found was slightly overpriced so we headed in to town as, we had to find another place. Then Olle started getting nervous. He wanted to go to the gig and me and Benny wasn't that anxious about spending the whole day there. Especially the weather couldn't decide if it should rain all day or not. Showers kept coming and going. Anyway - we made our way to the bands hotel and got there just when Colin and Bruce were going off to the gig. I decided to stay in Baden Baden as I couldn't be bothered spending a day in a muddy field in the middle of nowhere. How I would get to the gig was another thing, but it got itself sorted out. I took a walk around town and the park, had some coffee, wrote some postcards, had dinner With Bruce and the representative from EMI and then I was back at the band's hotel to join them for the ride to Lahr. (Thanks Colin!) I had checked back with Olle and Benny to make sure that they were safely inside the gig.
Talk about security! Police checkpoints and all. The driver called ahead to say that we were about to arrive, so our little convoy sailed through it all. We drove in to a building and went straight to the dressingrooms.
Colin gave me a pass for the show and I grabbed a beer. Rog started tuning his bass and then started playing some riffs. Paicey and Jon joined in.
Paicey tapping away on the table and Jon humming the keyboard tune. I left.
They had enough to sort out, such as curfew time, length of the show and the whole festival running late. Went to look for Benny and Olle, spotted the car parked within the backstage area and as I couldn't find them there I figured they must be somewhere in the audience. Let me just describe the site with one word. Big! Finding them there was as easy as finding a needle in a haystack. Later on, when I met Benny, I found out that they were backstage the whole time, in the catering. I hadn't even been bothered looking there! Silly me.
Marla Glen was on stage and spent some time up there. Actually not that bad. But we were all waiting for the main act. And finally it was their turn to enter the stage. The security people together with Colin guided the band on stage and shortly after that Colin started flashing at me and Benny. We went up to him and he saw to that Benny got to be on stage to take pictures. Benny had asked him if he could do that, but we were both surprised that Colin asked the security to guide Benny on stage. I joined him for a while up there, and I must say that the smiles on the band's faces were shining bright. It got me smiling as well. I was happy for them.
Happy that they got to play infront of a big crowd again. Some 30.000 people (someone on amd-p said it was 50.000, but Rick Lamay who is the bands accountant said 30.000 and I take his word for it) had joined up infront of the stage, hands in the air and singing along. Everybody had a great time. The show lasted for an hour and a half, give or take a few minutes. And when they finally left the stage it was five guys with huge smiles, sweaty and tired but very happy that made their way back to the dressingrooms. The crowd still cheering for them to come back. Benny and Olle took off to fill up the car and head for the hotel In Baden Baden before the heavy traffic jammed all the roads. Their trip back is another story and theirs to tell as I wasn't with them. I went back to the dressingroom and witnessed Steve getting slagged off in a cheerful manner for passing around some fan's bootleg liverecording from Munich last year. Somehow no one in the band could remember recording that show. Everybody was laughing and feeling generally good about the show. Although some had been worried as they hadn't played live in over two months and hadn't had enough rehearsals. As you all might know by now, Into The Fire ended in a bit of confusion. Well that's all water under the bridge now. We had police escort on our way back from Lahr until we reached autobahn.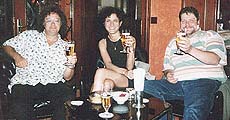 Then it was smooth sailing from there on to the hotel. Me, Colin and Paicey had ended up in the same car, and jokes were flying. Colin and Ian started talking about cars and Ian's in particular. There was something wrong with it as it would only do 150 instead of 165 on the freeways in Germany. Ian said he would have to have it fixed. I chuckled a bit as I had been talking about me doing 180 km/hr. That's when Ian stuck his face up mine and said: "That's miles dear. And that would make something like 240 in km." OK, that shut me up. Back at the hotel I teamed up with Benny and Olle and we stayed for a while, with the few that was in the bar. They all had to get up really early in the morning to fly to Lebanon, so most had gone to bed. We headed for our hotel, which was up the hill/mountain right next to a church and collapsed.
Now, this is the southern part of Germany and there are churches everywhere. By 7 am they started ringing. And you figure they won't ring again until an hour later. Wrong! These ring every 15 minutes! It's unfair to us who have been up until the wee hours of the morning. Eventually we gave up and headed downstairs for breakfast. Packed the car and took off. Olle wanted to drive for a while until he felt he could go back to sleep.
Then I took over and Benny and Olle where down and out. Now I had my chance. I put my foot on the peddle and soon enough I was cruising up the autobahn in a leisurely 210 - 220 km/hr. If it only hadn't been for the automatic gearbox and the morning traffic…. (Hey DP: Need a private chauffeur? I'm available.)
Anyway - the drive home was long, considering that we did it in one hit. But even though we were tired we were extremely happy. I must say thank you to Benny and Olle for being great people. Friends for life. Klaus Henatsch and family for the hospitality. Colin and Bruce for helping us with passes.
Ian, Roger, Ian, Jon and Steve for being who you are. I love you. Special thanks to Steve for showing the guys that there is a lot more mileage in them then I think they knew themselves. Thanks to Charlie and the crew for the laughs. In short, thank you all for making this a memorable weekend.
Tatti (I'm the Speed Queen, see me fly) who has learnt that it is better to smoke on the water than to smoke in the car.
---
[ reviews | the highway star ]