Deep Purple in Lahr and 3400 km later
4 July.
Over the the last few weeks this trip was planned. So on friday 4 of July it was time to go. I left home (Eskilstuna) around 7 am.
Drove 250 km south to a town called Skara. There I picked up a woman called Tatti, which I have never met before. I have only met her on the net, a very nice woman. After that we went south 250 km, to a town called Halmstad at the west coast of Sweden.
There we met Olle for the first time. Only met him before on the net (IRC) like Tatti, a very nice man. So we took his car instead of mine and drove down to Helsingborg 80 km south of Halmstad. There we took a ferry to Helsingor in Denmark. From there we kept going south through Denmark to Rodbyhamn, 200 km from Helsingor. Then it was time for the next ferry to take us to Puttgarden in Germany. From there we drove to Hannover, 300 km south of Puttgarden. When we came to Hannover late in the evening we met 2 friends of Tatti's.
Nice guys. One was called Klaus and the other one I have forgotten the name of. Anyway, we went to the pub for a few beers and then to a resturant. But we were tired because of the long drive so we went to Klaus place, where we all stayed for the night.
5 July.
After a good night's sleep it was time to move on. But first we had a good breakfast at Klaus place and a trip downtown. Now we drove to Baden Baden where Deep Purple was staying. From Hannover to Baden Baden it was around 500 km. So we came there early in the evening.
We went straight to their hotel, a very nice place. Parked our car outside the hotel. On the way in we met Steve Morse, we said hi and he had a big smile in his face when he saw us. Then we went into the hotel bar for a beer. Soon was Bruce Payne at our table. Then came one after another to the bar, Colin, Jon, Ian G, Roger and Ian P. They just stayed there for a few minutes before they went away for rehearsals. We went away to find a hotel for the night. Later we came back to the hotel bar. After a short while we had Ian P at our table. And a few minutes later Ian G, Roger, Colin, Bruce and some guys from the crew arrived in the bar. There was also some other guests there. Later I met a guy from the crew I met last summer in Sweden, Spike, a very nice guy. Then came Roger to our table. I showed him the cover of LATO, and suddenly everybody was excited because nobody in DP and crew had seen it yet. What can I say, we all had a great evening and lot of beer.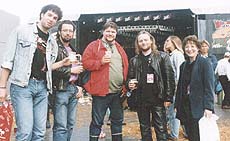 6 July.
After a good night's sleep, we went out for a walk around the city and had some breakfast. Then back to the hotel where DP were staying. Met Colin there. They were on the way to Lahr so they told us to follow them in our car. So in early afternoon we came to the festival in Lahr. We parked our car backstage and then came the rain. Everything was delayed. But later the sun came. The first band I heard was Steppenwolf. But we didn't give them much attention, instead we were backstage where we met Stephen, a regular visitor on amd-p, a very nice guy. We got our passes from Colin then came Bruce Dickinson on stage. We went out to the mixingdesk where we met Doug and Fedor, two regular visitors on amd-p and IRC, very nice guys. Then we met Angelo and Stephen again. We had a few beers and listened to Bruce Dickinson.
Later came ELP on stage, which I saw some of. The sun was back, but everything was delayed. After ELP it was time for Marla Glen which we had bumped into earlier. I went backstage and was looking for Colin, which I found together with Stathis. It was time for DP to hit the stage.
Colin helped me to get on stage (on side). They opened the gig with Hush like they did on the North American tour last year. The next thing was Fireball and they used to finnish the song with Into The Fire but this time they played the whole song. This was the sixteenth time I saw them live since 85 and I must say this was great. The setlist:
Hush
Fireball
Into the fire
Ted the mechanic
Black night
Bloodsucker
Cascades
Woman from Tokyo
No one came
Smoke on the water
Jon Lord solo
When a blind man cries
Speed king
encore:
Perfect Strangers
Highway star
This was a shorter set than it was planed. According to Roger they skipped:
Pictures of home
Sometimes I feel like screaming
Rosas cantina
Hey cisco
because everything was delayed and there was some time limits.
After the gig we took our car and drove 10 meters and then we was out of petrol. Suddenly we bumped into Fedor and Doug. They helped us with the car and find petrol. Then we drove back to Baden Baden to the hotel were DP was staying. Most of the band and the crew had went to bed because they had to leave early in the morning. But we found Roger and a few others in the bar. I think we came to bed around 5 in the morning.
7 July.
After 3 hours sleep we woke up with "Hells Bells", just kidding, but it isn't fun to hear the bells from the church every 15 min, starting 8 in the morning when you go to bed 5. We had a church right into our hotel. So we went to the breakfast table and then we hit the road to Sweden. I had only 1600 km to go. I came home to my place at 7 in the morning next day, very tired but very happy.
Thanks to Olle, Tatti, Doug, Fedor, Stephen, Klaus, Bruce Payne, Colin Hart and of course Deep Purple which made this trip memorable. I know I'll never forget.
PS. It's better to Smoke On The Water than smoke in the car (on the ferry to Denmark)
---
[ reviews | the highway star ]