Deep Purple - Hallenstadion, Zurich, Switzerland.
September 1st, 1996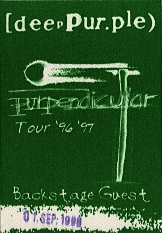 Why do I always find myself at the first gig of a new DP tour?... I really don't know. last time it was Ulm (Germany), now it was Zurich (Switzerland). I won't start comparing the two shows, but I would like to just say two things: the Zurich gig was a bit shorter than the one in Ulm back in March, but the performance was more exciting.
They started at 20:25 and played until 22:15 - so it was about 110mins in total.
The set list was:
Fireball
Ted the mechanic
Pictures of home
Black Night
Cascades
- Morse solo
Sometimes I feel like screaming
Woman from Tokyo
Noone came
Morse solo
- Smoke on the water
- Lord solo
When a blind man cries
Speed King
encores:
Perfect strangers
The aviator
Hey Cisco
Highway star
The sound and the mix were really good! The hall was filled with about 10,000 people and the atmosphere was good. Well, somehow they seemed to know only half of the songs, cos sometimes they were just standing and listening and then dancing around, jumping, crying...
To me the highlights were the opening number "Fireball" with a great solo by Jon Lord. Black Night - Paicey in good form, very dynamic! The middle part of "Woman from Tokyo" showed IG at his best. Noone came was ace! and also "When a blind man cries" was done very well. Most of all I liked Jon's solo which led into this song. It sounded a bit like some violins, and cellos were playing - a very peaceful and calm tune. Steve Morse joined in at the end and it was just perfect. Last but not least: Roger Glover - routined like always. Very solid and powerful playing and a good solo for "Pictures of home".
All in all a good start for the new tour!
Ingo Fengler
---
[ reviews index ]