The following live-review was done by Stefan Glas for the December '96-issue of the German magazine ROCK HARD. He was so kind to make up an extended transcription of his review exclusively for the DEEP PURPLE WWW-pages. The pictures were shot by him during the concert in Heidelberg.
The Conversion to HTML was done by myself.


Andreas Thul
---
DEEP PURPLE
MERZY
ASTON VILLA
Heidelberg-Eppelheim, Rhein-Neckar-Halle 27.09.1996 (Germany)
Strassbourg, Parc des expositions Wacken, Halle Rhenus 01.10.1996 (France)

For the second time this year DEEP PURPLE were touring Europe. It will always remain the musicians' secret, where they, being close to playing in the granny-league, draw that energy from.

For the gigs in Germany they invited the Danish band MERZY to open up for them. The sold out Rhein-Neckar-Halle was the blues-groover's last chance to introduce their new album "Real Good Trouble". For the upcoming shows in France, ASTON VILLA were booked as support act. MERZY took their chance and played an energetic gig. As a trio they had a few problems to occupy the complete stage, but nevertheless the audience cheered and the Danes gained some new friends.
While MERZY performed a solid, traditional show, ASTON VILLA appeared to be more trendy with their grunge-oriented music. Is combing this sound with French lyrics another try of re-vitalising a sold-out trend? In the long run the music was too monotonous and could only be stimulated by the freaky rhythm guitar. This did fit the stageacting of ASTON VILLA, 'cause there was none and only the leadsinger created some movement on stage. Surprisingly enough he played keyboards for some songs even though he had only one arm.

Like a "Fireball" DEEP PURPLE burned the stage. During the first minutes it was easily to see that each part was willing to give its best: the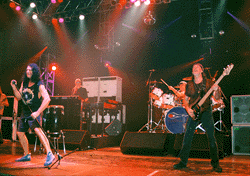 musicians bursting with energy, the soundman creating a dynamic sound and the audience impossibly to be tamed. In France the audience was a bit more calmed down, but seemed to have their fun nevertheless. The band played a mixture of classical tracks and current songs, leaving no wish unfullfilled during the following two hours. Only a certain "Child In Time" was unfortunately missing. Ian Gillan, nicely dressed in acid-blue sports shoes, was joking with the audience. Just as striking was the band's new-entry Steve Morse. Not only being brilliant playing his wonderful solo, his relaxed playing managed to add some new, not blasphemous views to a song like "Smoke On The Water". Except from that he was also responsible for the satisfied "Who the f**k is Richie"-grin on everybody else's faces. Who believes long solos to be out of time, was silenced by the wildly firing duelists, band-youngster Steve in his forties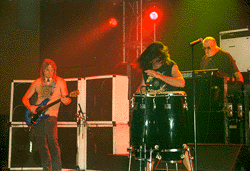 and oldtimer Jon Lord, at once. While in Heidelberg Steve seemed to gain a small advantage over Jon, in Straßbourg Jon brought the counter back to draw. Needless to say Roger Glover and Ian Paice couldn't keep their fingers still and joined in the quarrel. The band left a deep sea of purple, sweating faces, demonstrating that nowadays a happening like this is able to attract three generations at the same time. While in former times father grabbed his son (or vice verse) in these days the grandson has to join the party, too. Can there be anything that speaks out more clearly for the fascination hidden inside the phenomenon DEEP PURPLE? The band is and will always be a solid institution in a more and more staggering business.


Stefan Glas

Any questions left, Andreas? Yes, Stefan! When will we be able to take part in the third "Purpendicular"-Tour?