Fireball rolls in Dubai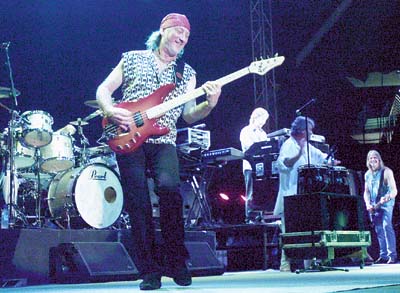 Roger Glover in Dubai.
By Leslie Wilson Jr., Gulf News
Deep Purple were energised, enthusiastic and above all entertaining on stage
The Aviation Club tennis stadium, hot and muggy, looks unwelcome tonight, except for one heaven of warmth and cheer as rock greats Deep Purple hit the stage for their much-anticipated debut concert in the Middle East Sunday night.
For years now Purple have occupied the rarefied upper reaches of the rock stratosphere, the reason being they've been around virtually since Britain had a rock scene to speak off. Their's is a great story and it unfolds, magically, during the 120-minute Dubai-gig played to an ecstatic audience.
Though at first glance the original Deep Purple triumvirate of Ian Gillan (lead vocals) Roger Glover (bass) and Ian Paice (drums), look grizzled and worn, their sound is, as it always was, unmistakably fierce - aided significantly by new recruits Steve Morse (lead guitar) and Don Airey (keyboards).
Heavy rock
But there was no denying the brilliance of their music as the hard-edged glory of Fireball kicked off a massive dosage of heavy-rock.
The issue of advancing years is confronted head on as a kurta clad barefoot Gillan, once the archetype for all heavy-metal screamers, rises to the challenge bravely as Morse produces a wall of grinding chords and greased-lightning lead flourishes.
That was all it took to send the audience into a state of euphoria. In today's ever-decreasing arena rock marketplace touring bands like Deep Purple, the Rolling Stones, The Who and Aerosmith, are potential giants and Purple demonstrated that with their set of resounding rock classics.
"Super, you're sending out some great vibes," says Gillan gamely to the audience. Spectacular versions of Woman From Tokyo and Mary Long from 1973's Who Do We Think We Are tumble out with all the subtlety of a landslide; the combination of Airey's thundering organ runs and Morse's lightning-fingered guitar solos threaten to rattle teeth as they blaze their way to the magnificent Lazy, from the definitive 1970's heavy-metal album Machinehead.
It is inspiring stuff and downright surrealistic. As is the entire night, for that matter.
Gillan, Glover and Paice may be on the wrong side of 50, but they sound and look rejuvenated with the customary bonhomie on stage. Whatever, they seem energised, enthusiastic and above all entertaining.
Spellbinding
The timing and delivery of the ballad I'm a Blind Man is immaculate and a perfect showcase for Gillian, arguably one of the greatest ever rock singers, whose range was appropriately rich and well-preserved.
Glover and Gillan occasionally nip off stage leaving the coast clear for some amazing guitar and keyboard solos. Morse almost stole the show with his flame-throwing guitar bursts of delightful snitches from Harrison's Here Comes The Sun, Canned Heat's Going Up The Country and the Rolling Stone's Jumping Jack Flash while Aivery is spellbinding as he rolls-over Beethoven and Mozart.
Halfway through the set and the band launch into Perfect Strangers, the title track from their comeback album of the 1980's that reaffirmed their niche among rock legends.
The warmed-over chemistry between Purple and the audience comes to a boil with the chorus-led audience singing along to Smoke On The Water, one of the band's biggest hits and one which still fries ears 30 years after it was recorded.
By the same token, witnessing Gillan stomp sweatily and make faces as he punched chords in the air, made it simply priceless.
Sadly, after the intensity of Smoke On The Water, the band depart as Gillan acknowledges: "You're an unbelievable audience. What a fantastic experience to be here for the first time. Pity we couldn't stay here longer, Dubai seems such a nice place."
As the crowd go through the now familiar motions of begging for more Purple return for an encore that features two of their earliest recordings - Hush and Black Night.
For an almost vaudevillian sense of showmanship Deep Purple cannot be faulted, although the version of Highway Star, that followed, didn't quite cut the mustard. But try telling that to the crowd. Some close to nostalgic breakdown; most fantastically thrilled; this is the only parting shot they wanted.
Highway Star is one of the finest rock singles of all time, and as set-closers go, about the best any band could hope for.
Legacy
Connoisseurs may have noticed a few notable omissions, like Child in Time, in particular, while others may have observed that Deep Purple's finest days might have passed. But there's no denying that Sunday's concert helped craft a hard-hitting arena rock legacy that remains, it seems, inexhaustibly alluring.
The concert was promoted by Dubai-based Mirage Promotions and presented by main sponsor Land Rover and associate sponsors Pine Lights and Swiss International Airlines along with Hilton Dubai Creek, Showtime, Emirates Radio 1 and 2, Virgin Megastore, UAE FM, HUM FM, Companion Points, Budget Car Rental, Dubai City Guide.com, Crazyspin.com and Gulf News.
Photos copyright Gulf News