For Deep Purple, Dubai is a nice mystery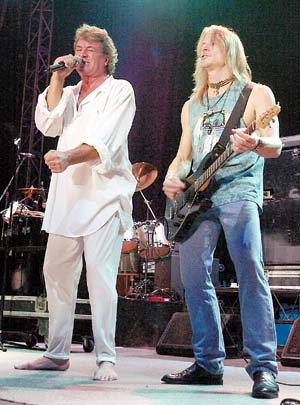 Gillan and Morse performing at the Dubai Aviation Club. © Gulf News
Dubai is a nice mystery says the legendary heavy rock band Deep Purple.
Speaking at a pre-event press conference yesterday, the guitar player Steve Morse, who has replaced the wizard Ritchie Blackmore, said: "Where ever we play, there seems to be a common thread among our audience. You close your eyes and have no idea where you are on the planet... they all love our music."
Ian Gillan, the vocalist, said according to his daughter "Deep Purple is cool now" so the audience at their world tours tend to comprise nearly three generations.
He said: "We have a lot of 18-year-olds coming to listen because there are very few bands now that can play 100 per cent live. It is a novelty for them.
"Even if we have performed our songs several times over, each time it is different. Not like a Broadway show that is the same night after night. It's not often these days we go somewhere where we haven't been before. Dubai is one of those places and we expect it to really be an experience."
He said they are still a loud band, but the spectrum of sound is better and greater.
Gillan said despite being an old band, they are peaking again and have planned to release a new album by next year. "The music industry is getting behind us and we can feel the support. So we're excited about the new album."
Bass player Roger Glover said there have been numerous changes to the band's line-up over the decades.
He said: "Change is necessary. It is good otherwise you get stagnant... because of it we're still a vibrant musical force."
Gillan added: "The lyrics too have changed. When you are young you write about what is important to you... when your are old you write about what's really important. Being on the road is good. It is a procreative process and helps in the writing."
He said they were glad to have Steve Morse on board, along with Don Airey, the keyboard player, who has replaced Jon Lord.
Drummer Ian Paice said: "Jon fell out of love of touring, he wanted to spend time writing his kind of music which doesn't exactly fit into the Deep Purple kind of music."
All of them were of the opinion that the Dubai experience was going to be novel and all part of their musical journey.
The Deep Purple concert was promoted by Mirage Promotions and presented by the main sponsor Land Rover, along with associate sponsors Pine Lights and Swiss International Air Lines, along with Hilton Dubai Creek, Gulf News, Showtime, Emirates Radio 1 and 2, Virgin Megastore, UAQ FM HUM FM, Companion Points, Budget Car Rental, Dubai City Guide.com and Crazyspin.com.
Interview and photo is copyright Gulf News