Family reunion
I just returned home from Bristol Colston Hall. After all these years I just played with Deep Purple! As I said to Roger after the show, "Now I have played with all of you, with the exception of Ritchie!"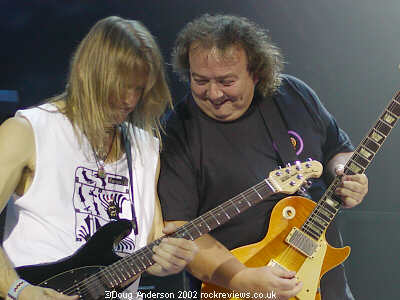 I had a great time on stage with them, and I would like to thank them in public via your site. I saw the show in Birmingham on Saturday, it was the first time I saw Don Airey playing a concert since Colloseum in the 70s. Don has an incredibly hard job to do, but if anybody is capable of playing that material, Don is that man.
Nobody will ever replace the great Jon Lord, there was a lump in my throat tonight when I turned around to see that smiling face for the last but one time with Purple, it bought all the memories back.
I was soon brought back to earth by the amazing Steve Morse, I have been a fan of Steve's for a long time, to play with my old friends and a guitar player I greatly admire made the whole night very special.
Once again thank you Ian G, Roger, Ian P, Don and the irrepressible Jon Lord. And a big thank you to the people of Bristol for the wonderful welcome.
Oh by the way, great gig.
See you soon,

Bernie Marsden
Photos by Doug Anderson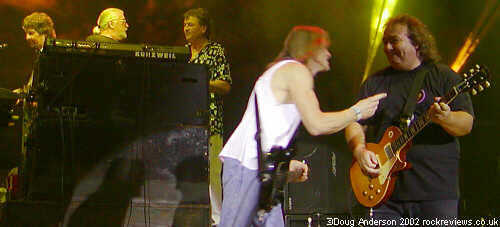 While Jon and Ian discuss the price of milk, Steve tells Bernie the one about David Coverdale and Eddie Van Halen...