A rock heaven with the gods
From This Is Bradford
They came, they saw and they certainly conquered.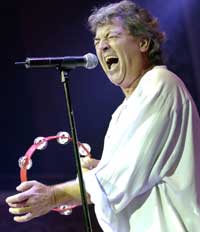 One of the heaviest names in heavy metal was on stage at Bradford's St George's Hall last night - and you knew it big time.
The sheer, raw power of one of the world's greatest rock bands left you buzzing and in no doubt you were in the presence of undisputed super legends Deep Purple.
Boy bands can only dream of achieving the sort of fame and following Purple has had since the original five got together in the late Sixties and developed their talents. Last night they were whacking out the sounds that have ensured their reputation for 30-odd years - and for the 1,700 who crammed into the sell-out gig it was pure heaven.
The tracks came thick and fast like a shower of meteors - or fireballs. The pace was hard, unrelenting and totally exhilarating, and you were still reeling from the last track when the next started. Fireball, Smoke on the Water, Lazy, Space Truckin', My Woman from Tokyo, Highway Star and as an encore Black Night.
Ian Gillan, pictured, may have aged 30-odd years since the band started, but his amazing voice was on top form. So too were steady-as-a-rock Roger Glover on bass and drummer extrordinaire Ian Paice, both of whom had their chance to shine during solos in Speed King.
Veteran keyboard expert Jon Lord made only a relatively brief appearance for a few tracks about half way through the set, his place taken for the first session by former Rainbow man Don Airey, who more than proved himself as a worthy stand-in for the great man.
Lord, in his sixties, has a chronic hip problem and can't stand for too long. But when he did appear there was a roar of delight - and what followed was proof that his mastery on keyboards has never diminished.
Guitarist Steve Morse had plenty of chances to show that he knew his way around the fretboard with one delicious lead break after another.
The warm-up session was down to the multi-instrumentalist The Planets, eight musicians plucked straight from music college by Bradford-educated Wombles songwriter Mike Batt. They are a fascinating mixture of the sexiness of the Corrs, the wildness of Vanessa Mae and the range of John Williams's band Sky.