Back to:
members contributions index

Studio report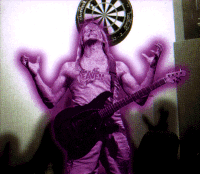 Would someone please beat Roger round the head with the book of smilies! Please?!
---


THE PURPENDICULAR STUDIO REPORT

18 songs currently under construction. (we had to stop writing the stuff!)

Some all but finished and some needing work. (where's that gaffa tape?)

All are band compositions. (should be *banned*?)

All songs were done at the same tempo so as not to confuse the musicians.
(1,3,4, ...um)

Most of what's left to do is vocal work. (it's also what's right to do)
  ;-}


To that end, some members have flown away, but will probably be flowing
back before it is finished. (we've got a tennis championship to be decided)

The feeling in the band is..... er.... congenial, very. (it's a mesh :-))

We have a title. (Will The Real Dick Pimple Stand Up?)

The first song we recorded was written on the first day - we put down a
rough version that night so that we could come back the next day, learn it
properly, and record it.  It was Steve's suggestion to use that first
version, a jam, just as it stood. (and it does)

We survived Hurricane Erin. (with beer)

The entire album was recorded live. (the overdubs were added later)   >;-)

It's been great working with talented and enthusiastic musicians. (sorry)
   ;-]

RG - Orlando - August 8th. 1995



---






 




Dave Hodgkinson
13 August 1995.



Donor Section






Subscribe to:
The Highway Star Update!
Participate in:
Purple discussions
Join the:
Mailing lists
Purple Tours
Tour Dates
Tour Reviews
Purple Music
Shop
Upcoming Releases
Discographies
Lyrics/Tabs
Sound Archives
MIDI Archives
Movie Archives

Other Sections
News
Frequently Asked Q's
Image Gallery
Purple Contributions
Interviews
Special Features
Editorials
Bios/Family Tree
Newsgroup/IRC
Joanna's Gossip
Links
Who To Blame