Introduction
Page 1
Page 2
Page 3
Page 4
Page 5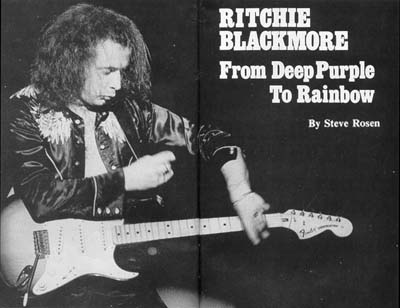 WHEN RITCHIE BLACKMORE steps into the stage lights and begins to play. his 22 years experience and high adrenalin turn him into a self-described "aggressive bulldozer" of a guitarist. "I feel like I own the stage." he says. Indeed, his scaring lead work with Deep Purple and his natural evolution with Rainbow, his current band, have carried him onto the stages of four continents and his rccordings into the charts time and again - in one year alone, Deep Purple sold over 14 million albums world-wide. Rainbow recently released their fourth album, Long live Rock 'N Roll which fuses the seemingly incongruous styles of classical, Renaissance, German Baroque, and heavy rock music. "I criticize my own work pretty harshly," Blackmore says, "yet I feel this is some of the best music I have ever been part of."
Ritchie's musical initiation began in 1956. when at age 11 he got his first instrument - a secondhand Framus Spanish guitar. He lived near guitarist Big Jim Sullivan [see CP, Jan.'73], from whom, he says, "I learned quite a lot of tricks." By the time he was 17 Ritchie was working as a session guitarist, often sharing duties with Jimmy Page, [see CP, Jul.'77], and he joined Screaming Lord Sutch's band in London. Sutch, one of the most colorful characters in British rock during the '60s, modeled himself after American blues singer Screaming Jay Hawkins. "Working with him was terrifying at first anyway," savs Ritchie. "He did a stage act in which he'd dress up like Jack the Ripper. He had shoulder-length hair before anyone else, and every gig was an adventure. He taught me to get out and give it to the people."
After several years apprenticeship with Sutch, Blackmore tired of the British music scene and moved to Hamburg, West Germany. He became a regular at the Star Club, backing visiting musicians including Jerry Lee Lewis. In February 1968 Blackmore, organist Jon Lord, and drummer lan Paice met in Hamburg and discussed thc possibility of forming a group. They added bassist Nick Simper, who had also worked with Sutch, and vocalist Rod Evans. By the summer of the same year their first single - a hard rock version of Joe South's "Hush" - was released in the U.S. Following the succes of their first album, Shades Of Deep Purple, the band toured the U.S. in October 1968. Though the band's first three alhums received wide acclaim in the U.S., they did not release any recordings in England until l970.
In July 1969, Evans was replaced by Ian Gillan, who would later play the title role in the recorded version of the Jesus Christ Superstar [MCA, 10,000], and Roger Glover took over as bassist. While the new lineup rehearsed, Jon Lord began working on a concerto for a rock band and symphony orchestra. On September 24, 1969, Deep Purple joined the Royal Philharmonic at Royal Albert Hall; the performance met with wide approval from both classical and rock reviewers, and was later released as Deep Purpie And The Royal Philharmonic Orchestra.
Deep Purple spent a half-year working on In Rock, and the LP was successfully received in both the U.S. and England in 1970. Later that year the group toured Europe, and in May 1971, they made their first trip to Australia. The hand scored further successes with their following albums: Fireball in 1971, Machine Head (reportedly recorded in a hotel corridor in Montreux, Switzerland) in 1972, and Made In Japan and Who Do We Think We Are? in l973. Machine Head and Made in Japan both achieved gold-record status soon after release. In 1973 Gillan quit the band, citing its "lack of progression," and he was soon followed by Glover. By 1975, Blackmore had also tired of his role in Deep Purple. "Things were getting a bit boring in rock and roll," he explaied, and he began to seek new musical direction.
In spring, 1975, Blackmore teamed with fomer Elf vocalist Ronnie James Dio. Blackmore found that Dio shared his interest in medieval music, and many of the songs they began to write reflect this interest. Joining Blackmore and Dio was Cozy Powell, who had worked as a drummer for Donovan and Jeff Beck [se GP, Nov. '75] and had three solo singles to his credit. They called themselves Rainbow. Their original bassist Jimmy Bain was replaced by ex-Widowmaker Bob Daisley, and keyboardist Tony Carey was rcplaced by David Stone. Shortly after its formation, Rainbow traveled to Munich, West Germany, where they recorded Rainbow, their debut album. With his new band, Blackmore claimed: "We're going to have much more emphasis on melody. In other words, everything isn't going to be hung on a riff." Ritchie has recently begun to study the cello. When asked if he will soon be delivering cello solos in live performances, he answers: "Maybe when I'm 40. It'll take me that long to really play it well."

-GP

* * * *
Donor Section






Subscribe to:
The Highway Star Update!
Participate in:
Purple discussions
Join the:
Mailing lists
Purple Tours
Tour Dates
Tour Reviews
Purple Music
Shop
Upcoming Releases
Discographies
Lyrics/Tabs
Sound Archives
MIDI Archives
Movie Archives

Other Sections
News
Frequently Asked Q's
Image Gallery
Purple Contributions
Interviews
Special Features
Editorials
Bios/Family Tree
Newsgroup/IRC
Joanna's Gossip
Links
Who To Blame