Ed's Long Overdue Review of Abandon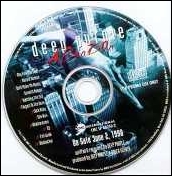 I've listened to Abandon now for less than a week, and it was really difficult to bring myself to write this review. Sound strange? Well, fact is, there is no way to contain my enthusiasm for this album, which means nobody will believe I am being objective. ;-) Stathis mentioned in his (very accurate) review that Deep Purple hit a home run. I believe a grand slam is more appropriate. To contrast Stathis' review, I will go through the disc track-by-track.
Any Fule Kno That
The first single, and rightly so. Powerful drums and a droning Hammond open an infectious rocker. It features a swinging backbeat, and classic Gillan vocals. Jon takes a quick tasty solo, then back to Gillan before Steve takes us out nicely. Expect to hear this one all over rock radio.
Almost Human
This one gets better with every listen. A tasty, heavy shuffle, that gives way to a melodious chorus. Great lyrics, great licks, and great fun make this another single contender.
Don't Make Me Happy
A blues in the tradition of When A Blind Man Cries, but with a truly modern feel. A track that further illustrates that Deep Purple does not deserve to be pigeonholed into any single category, especially heavy metal.
Seventh Heaven
For those who have already heard the live versions, there is no surprise here. A beautiful intro quickly turns into a massive riff. The mid-section quiets, and Steve pulls of an excellent solo. This builds into a crescendo that successfully plows back into the song.
Watching the Sky
I felt this song started out somewhat predictable, but then it quickly slips into a Floydian treat of Gillan vocals accompanied by keys and other effects. Before you know it, you are blasted by a heavy treatment which quickly reminds you that this is indeed Deep Purple. Back to the trippy section, a melodious chorus, and then heaviness again. The song continues with different progressions that prove DP are masters of complex, sophisticated rock.
Fingers to the Bone
One of my favorites. It begins with a lovely acoustic flourish, underscored by a throbbing, pulsing riff. It has a certain Celtic feel to it, and it continues as the main theme of the song. Although lyrics are a personal thing, these are very appealing to me (as well as the vocals). This could be an excellent radio track, as I think VH-1 would certainly jump all over it. The mid-section features tasteful piano accompanied by a harmonica in the distance. A beautifully song indeed.
Jack Ruby
A swinging, feel-good, fun-time shuffle that invokes the namesake of the man who shot Lee Harvey Oswald. It reminds me of New Orleans for some reason. I could just picture myself walking into a bar there and hearing them jamming this one on stage.
She Was
Another favorite; in fact I can't get it out my head. Heavy is an understatement here! The tune plows through an intensely hypnotic riff, which perfectly compliments Gillan's vocals & story about an unforgettable woman "who was all she said she was." A nice middle section, than back to that chunky, growling riff! I keep playing this one over and over.
Whatsername
A friendly and heavy intro leads into a very catchy chorus. This was mentioned as a possible single by program directors on CMC's northeast roadtrip, and I can see why. After all, whatsername is back in town!
69
Yet another favorite, and another single contender. A hypnotic opening reels you in, and the roller coaster begins! The lyrics are a trip down memory lane, and the song rocks extremely hard before bringing us down to a quiet middle section which sucks you in to a keyboard treat loosely reminiscent of Rat Bat Blue. They tear back into the main song, the Paradiso is mentioned (amongst other lyrics), and it races off towards its finale.
Evil Louie
At first this one reminds me of the Purpendicular Waltz, but it quickly diversifies into it's own tune, complete with the expected Purple twist and turns. Very melodic at points, it is a nice way to round out the album before they plow into:
Bludsucker
This version was inspired when multiple fans approached the band after the 97/98 House of Blues shows to ask if this was a new track (can you believe it?). Faithful to the original, this could make a statement that this band is the natural heir to the classic DP mark II throne. I must agree, although I would have preferred No One Came. Still, this is only one fan's opinion, and I really enjoy their treatment of this classic track.
Overall impressions
This band has not only found itself, but has also rediscovered itself. Make no mistake; this is Deep Purple, reminiscent of Deep Purple of old when they truly ran on five cylinders. The mix and recording are hot – red hot, not unlike In Rock.
The 56:26 of music on Abandon will stir many emotions and feelings. As I struggle to capture a perfect summation of this offering, I only end up referring back to the title, as Deep Purple truly are A Band On.