Steve Morse Band - StressFest
Sleeve notes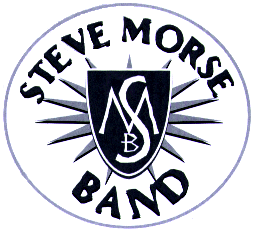 There's a newfound heaviness to Steve Morse's playing these days. Along with the fabled, awesome chops and impeccable articulation that have been part of his musical arsenal since his Dixie Dregs days, going back to 1974, there's an added depth of metallic agression that now marks his playing. Check out those chunky power chords he lays down behind "Nighthawk", "The Easy Way" and "Glad To Be" or the distortion-laced grind on "Brave New World." This kind of meaner, nastier Morse no doubt comes from standing toe-to-toe on a nightly basis with organist Jon Lord, bassist Roger Glover, drummer Ian Paice and vocalist Ian Gillan as the newest member of Deep Purple.
Filling the heavy metal shoes of Purple's influential guitarist and founder Ritchie Blackmore might be an intimidating task to even the hottest guitar slinger on today's six-string circuit. But not to Morse, who has become something of a guitar god himself, having been inducted into the Guitar Player's Gallery Of Greats in 1986 after five consecutive years of winning the magazine's Best Overall Guitarist poll.
On StressFest, Morse is careful to temper his grungier moments with the kind of intelligence, taste and finesse that have been his trademark from the beginning of his celebrated career. His sublime acoustic work on "Delicate Balance," an affecting duet with bassist Dave LaRue, reflects an ongoing love of calssical music, specifically the logical, moving harmonies and brilliant contrapuntal lines heard in Bach and Handel. The other side of the musical coin to this more intimate, serene offering is "Live To Ride," an all-out rock 'n' boogie romp that rivals ZZ Top for sheer raunchy abandon.
The title track, which kicks off this impressive collection, is perhaps the best example of what the Steve Morse Band does live. With Van Romaine's crisp, muscular backbeats and double bass fills setting a frantic pace, LaRue alternately chords and slaps his bass with an intensity matching Morse's own machine-gun picking through the changes. On the grinding "Rising Power," Romaine and LaRue forge a thick foundation for another of Steve's heroic solos. Then on the lyrical "Eyes Of A Child," the guitarist takes a more deliberate, vocal approach to his instrument... a case of masterful restraint for one possessing such mind-boggling chops.
"Nightwalk" represents some of Morse's nastiest bent-string urgency on record while "4 Minutes To Live" reveals a passionate player of ballads. And "The Easy Way," buoyed by LaRue's exceptionally finky, syncopated bass lines and Romain's slamming backbeats, turns the chops monster loose for yet another technically breathtaking sprint up and down the fretboard.
In a career spanning three decades, Steve Morse has earned a reputation as a meticulous craftsman, unerring perfectionist in the studio and chopmeister of the highest order. And while he has been thrust into the popular spotlight on occasion, first with Kansas and now with Deep Purple, he is first and and foremost regarded in industry circles as a musician's musician; the premier player of instrumental rock after Jeff Beck.
Born in Ohio in 1955, Morse moved to Georgia with his family at age 13. After picking up the guitar, he quickly came under the influence of all the reigning '60s guitar heroes - Hendrix, Beck, Calpton, Page and, coincidentally, Blackmore. "A substantial part of my rock roots is from playing Deep Purple stuff," he told Guitar School magazine.
Morse began his professional career playing around the South for a few years in a band he and bassist Andy West put together, travelling the Georgia-Carolinas' bar band circuit under the name of Dixie Grits. Even then Morse showed an unusual penchant for sophisticated harmonies and motific development that went beyond your standard 4/4 rock'n'boogie fare. But it wasn't until he entered the guitar department at the University of Miami that those instincts began to blossom.
His connection to U of M came about one night in 1970 when he attended a recital in Atlanta by classical guitarist Juan Mercadal. "I went to hear him play and I was simply amazed," Steve told me in a 1983 interview. "He could make the guitar be quiet, be soft, have tremelo just by bending the strings. He could play soft and beautiful, but when he wanted to get down he could thrash a guitar, which is something I had never seen s calssical guitarist do before. I went backstage to meet him and he told me, 'You do your studies and come to the University of Miami and I will teach you, if you really learn how to play first.' It was a big turning point in my life. I had never even heard of the University Of Miami before that, but after meeting him backstage I knew I had to go there."
The Dixie Dregs started out in 1974 while Morse was still sttending the University of Miami. They struck a magical balance between the Mahavishnu Orchestra and the Allman Brothers, running the gamut from high energy fusion suites to intricate chamber pieces to frenetic bluegrass breakdowns, building a rabid following in the process. And Morse was the centerpiece of the band with his blazing riffs over seamless, odd-time shifts executed at breakneck tempos.
With the Dixie Dregs (later abbreviated to just Dregs) Morse played every night under intense scrutiny of aspiring guitarists who gathered to awk at his awesome technique. As he once said, "It's like a test with them. Each gig is like a jury exam; you'd better get up there and play good...or else. So I take it really seriously in a way, and yet I still have a good time."
An unassuming, soft-spoken guitar hero, his precision cross_picking over Bach inflected lines confounds those novice guitarists in the audience who hope to glean a few of his secrets by seeing him play live with Deep Purple or the Steve Morse Band. His sheer string-bending solos tends to intimidate the best of them. And yet, in spite of all the accolades he has received over his illustrious career, Morse still considers himself a student of the instrument.
"Every good guitarist that I know is constantly learning," he said. "The more you know the better off you are, is how I look at it."
While Morse has arrived at such a lofty level of virtuosity through hard work and single-minded determination, he remains indelibly tied to the rock 'n' roll aesthetic. No matter how complex his music may become - full of moving harmonies and dizzying flurries of 64th notes - he is still firmly rooted in the basics. As he said, "I was a kid when I started fooling around on guitar. I first picked it up because I was excited about the Beatles and the Rolling Stones and all that, and I suppose that's always gonna be there for me."
With StressFest, Morse = the musician's musician - is maintaining his usual high standards while still having a great deal of fun.
- Bill Mikowski
Transcription by Mahesh Srinivas. HTML by Svante Pettersson