[% META title = 'Deep Purple - Steve Morse Dixie Dregs and Solo Discography' nonav = 1 %]
Morse Code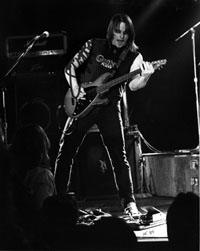 [Steve Morse, live at the BackRoom, in Austin, Tx, 1989]
From his humble beginnings in the Dixie Dregs, through a short stint with Kansas, on to a long, very creative solo career, and now filling some legendary shoes in Deep Purple, Steve Morse is definitely one of rock-n-roll's premier guitar players, not to mention a down to earth nice guy. Steve's roots go back to Agusta, Ga in the mid 70's where he formed the Dixie Dregs. "With spectacular musicianship, the Dixie Dregs wove rock, chicken-scratch, country, freeform jazz, bluegrass, jigs and Baroque/classical styles into a music tapestry that transcended musical styles" -Jas Obrecht/Guitar Player Magazine. The band released several albums from 1977 until it broke up in 1982. In 1984 Steve released his first solo band album The Introduction with former Dregs drummer extrordinair, Rod Morgenstein and Jerry Peek on bass. After an incredible tour opening up for Rush in the US, Steve then went on to join Kansas for a brief time. Steve then took time away from the music business and became a commercial airline pilot. He returned in '89 with High Tension Wires, a beautiful solo work. He has done several solo albums and tours including getting back together with the original Dixie Dregs in 1992 for a reunion tour followed by both a live album and brand new studio record. In late 1994 Steve was asked to join Deep Purple as a permanent replacement for Ritchie Blackmore. What follows below is a Steve Morse discography of sorts ranging from the Dregs through his solo material, and a few things in between. If you haven't heard much of Steve, I would highly recommend that you pick up as many of these discs as you can find, because they all are great!!
---
Dixie Dregs
1977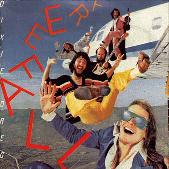 Line-up: Steve Morse - Guitars, Guitar Synth, Banjo

Rod MorgenStein - Drums, Percussion

Allen Sloan - Electric Violin, Viola, Strings

Steve Davidowski - Synthesizer, Keyboards

Produced by: Stewert Levine
The songs: 1) Free Fall, 2) Holiday, 3) Hand Jig, 4) Moe Down, 5) Refried Funky Chicken, 6) Sleep, 7) Cruise Control, 8) Cosmopolitan Traveler, 9) Dig the Ditch, 10) Wages of Weirdness, 11) Northern Lights

This was the Dixie Dregs first full record released in 1977. This overall is one of their best efforts. It has a good mix of southern rock, country and jazz styles but seems to be more jazz oriented and funky than other records. Refried Funky Chicken is just that funky. Steve makes good use of the wah-wah pedel here. Holiday has very fluid, rolling feel with some real tight rythems. Moe Down showcases the southern / pickin' sound that the Dregs should have a patent on. The disc closes with the quiet and fluid Northern Lights. For a first album this one is really great, one of the Dregs best.

---
What IF
1978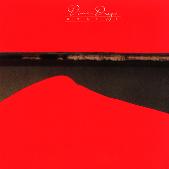 The Songs: 1) Take it Off The Top, 2) Odyssey, 3) What If, 4) Travel Tunes, 5) Ice Cakes, 6) Little Kids, 7) Gina Lola Breakdown, 8) Night Meets Light
The second studio record from the Dregs released in 1978. It featured many great songs including Take it off The Top which has been the center-piece of Steve's solos for many years. Live versions of it include parts of Mississippi Queen, My Sharona, Gimme Some Lovin and others.

---
1979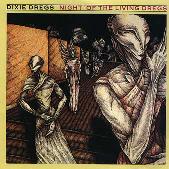 The Songs: 1) Punk Sandwich, 2) Country House Shuffle, 3) The Riff Raff, 4) Long Slow Distance, *5) Night of the Living Dregs, *6) The Bash, *7) Leprechaun Promenade, *8) Patchwork
This half studio, half live album was released in 1979, with the live material recorded at the Montreux Jazz Festival, July 23, 1978. Leprechaun Promenade was also re-recorded on Steve's 1989 solo disc High Tension Wires with all of the original Dregs musicians.

---
1980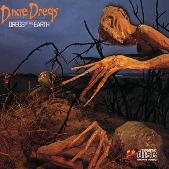 The Songs: 1) Road Expense, 2) Pride O' The Farm, 3) Twiggs Approved, 4) Hereafter, 5) The Great Spectacular, 6) Broad Street Strut, 7) I'm Freaking Out, 8) Old World
Dregs of the Earth is their fourth studio record released in 1980. This is a fantastic album with some stand-outs including Road Expense, Pride O' The Farm, a fun country-style pickin' song, and Hereafter, a beautiful, moody mellow piece. This was also the first record produced by Steve as well. Steve would go on to produce or partially produce all of his subsequent works.

---
1981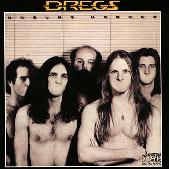 The Songs: 1) Cruise Control, 2) Divided We Stand, 3) I'll Just Pick, 4) Day 444, 5) Rock & Roll Park, 6) Atilla The Hun, 7) Kat Food, 8) Go for Baroque
After dropping the Dixie from their name, the Dregs released their 5th studio album in 1981. The title Unsung Heroes along with band picture on the cover with their mouths erased personify the band's off-beat, weird sense of humor. This disc has a remixed version of Cruise Control from Free Fall as many other greats such as I'll Just Pick, another country-styled bit, Rock & Roll Park, good jammin' song with a great lead, and Kat Food which is just down right funky. The best was saved for last with Go for Baroque, a beautiful acoustic piece that features Steve working through some incredible licks.

---
Industry Standard
1982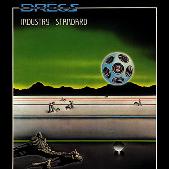 Line-up: Steve Morse - Acoustic & Electric Guitars

Rod MorgenStein - Drums and Percussion

Andy West - Fretted and Fretless Bass

Mark O'Connor - Acoustic & Electric Violin

T. Lavitz - Acoustic & Electric Piano, Organ, Synthesizer, Clavinet, Sax


Special Guests: Steve Howe, Alex Ligertwood, and
The Songs: 1) Assembly Line, 2) Crank It Up, 3) Chips Ahoy, 4) Bloodsucking Leeches, 5) Up In The Air, 6) Ridin' High, 7) Where's Dixie, 8) Conversation Piece, 9) Vitamin Q

This would be the last Dregs album before they would break up. Released in 1982, it included 2 songs with vocals, Crank it Up and Ridin' High with Patrick Simmons of the Doobie Brothers. Both songs are very formula "Power Rock" type songs which they did live on tour with a dummy sitting on a stool in front of a mic doing the vocals Milli Vanilli style! This record seems to attempt to move in a more commercial direction possibly in attempts to please the record company.

---
Divided We Stand - The Best of The Dregs
1989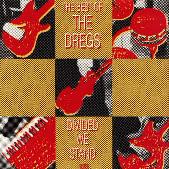 The Songs: 1) Bloodsucking Leeches, 2) Road Expense, 3) Twiggs Approved, 4) Assembly Line, 5) Kat Food, 6) Cruise Control, 7) Divided We Stand, 8) Take It Off The Top, 10) Hereafter
This is just a standard greatest hits package. The version of Take It Off The Top is a new studio version that was previously unavailable except from an Off The Record interview. No surprises here just a good selection of tracks.

---
1992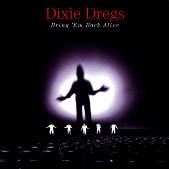 The Songs: 1) Road Expense, 2) Assembly Line, 3) Holiday, 4) Country House Shuffle, 5)Kashmir, 6) Odyssey, 7) Kat Food, 8) Hereafter, 9) Melody (Take It Off The Top), 10) Divided We Stand, 11) Bloodsucking Leeches, 12) Cruise Control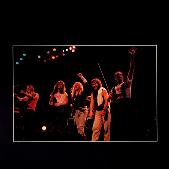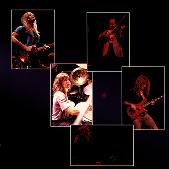 Reunited in February of 1992, the Dregs recorded two nights at Atlanta's Center Stage producing Bring 'Em Back Alive, one of the finest live albums in the last decade and a must-have for all Dregs fans. With a Dregs style opener, Road Expense to Holiday from their first album an also Kat Food this really serves up a complete helping of the Dixie Dregs at their best. The real gems here are actually some cover tunes of sorts. First up is the Led Zeppelin classic Kashmir. Its a completely instrumental version with Steve doing the vocal parts on guitar!! Robert Plant has got nothing on Steve!!! The second track is Melody (Take It Off The Top). It is based around the Dregs tune that drifts in and out of several tunes including Mississippi Queen, My Sharona, Summertime Blues, Gimme Some Lovin and others. This has been a mainstay in Steve's live set for many years. This is a great disc for anyone interested in what the Dixie Dregs are all about. It showcases the talent, musicianship and personality of everybody involved.

---
1994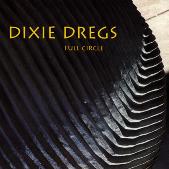 The Songs: 1) Aftershock, 2) Perpetual Reality, 3) Calcutta, 4) Goin' to Town, 5) Pompous Circumstances, 6) Shapes of Things, 7) Sleeveless in Seattle, 8) Good Intentions, 9) Yeolde, 10) Ionized

Full Circle is the first studio recording from the reunited Dregs. While this is definitely a Dixie Dregs album, it seems to have drawn from some of the sounds and direction that Steve's later solo albums have had. Still this is a good disc with many good tracks including the opener Aftershock, the Jig style, Goin' To Town, a cover of the Yardbird's Shapes Of Things and the melodic and beautiful Yeolde. It is not short on typical Dregs-style song titles, titles like Sleeveless in Seattle and Perpetual Reality. This record demonstrates growth from the members of the band and a fresh start for a great band. It really shows that The Dixie Dregs have come Full Circle.

---
Steve Morse Band
1984
Line-up: Steve Morse - Guitar, Organ, Synthesizers
Rod MorgenStein - Drums, Synthesizer on The Whistle

Jerry Peek - Bass Guitars
Guest Artists: T. Lavitz - Piano on Mountain Waltz
The Songs: 1) Cruise Missile, 2) General Lee, 3) The Introduction, 4) V.H.F (Vertical Hair Factor), 5) On The Pipe, 6) The Whistle, 7) Mountain Waltz, 8) Huron River Blues a) Dark Water b) Water Under The Bridge c) Toxic Shuffle

Steve's first 'solo' record is possibly one of his best works ever. Down to a slim 3-piece band, including former Dregs drummer Rod Morgenstein, The Introduction is a much more straight forward sound then the country-funky-jazzy sound of the Dregs. The obvious stand out here is On the Pipe with some incredible flowing guitar licks and a complicated, tight rhythm section. General Lee is a dueling guitar exchange with Albert Lee who traded licks with Blackmore on the obscure Green Bulfrog album. Other standouts include Cruise Missile, V.H.F. and the melodic The Whistle. Every song here is great. This is a must have Morse album!!

---
1989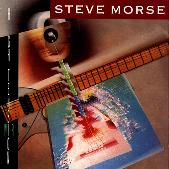 Line-up: Steve Morse - Guitar, Organ, Synthesizers

Guest Artists: T. Lavitz - Piano on Tracks: 3, 7, 9

Allan Sloan - Violin on Tracks: 1,7,8

Andy West- Bass on Track 7

Produced by: Steve Morse

The Songs: 1) Ghostwind, 2) The Road Home, 3) Country Colors, 4) Highland Wedding, 5) Third Power, 6) Looking Back, 7) Leprechaun Promenade, 8) Tumeni Notes, 9) Endless Waves, 10) Modoc

The best description of this album is beautiful, which is what it is. The songs have a soothing, feel-good mood to them. This is Steve's first 'solo' record, but it has many familiar musicians. Every song is a great on in its own way. Track 7 is a Dixie Dregs reunion of sorts with all original Dregs members assembled to resurrect Leprechaun Promenade and give it a fresh recording. Watch out for Track 8, Tumeni Notes which is exactly what it is and the closer, Modoc is a direct to digital master and you can sure hear the difference. This album is probably one of Steve's best, because it highlights his creativeness and musical skills.

---
Southern Steel
1991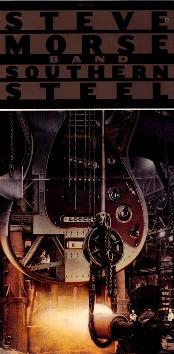 Line-up: Steve Morse - Guitars, Guitar Synthesizers

Dave LaRue - Bass

Van Romaine - Drums

Guest Artists: Jeff Watson - Guitar on Cut to The Chase
The Songs: 1) Cut To The Chase, 2) Simple Simon, 3) Vista Grande, 4) Sleaze Factor, 5) Battle Lines, 6) Southern Steel, 7) Wolf Song, 8) Weekend Overdrive, 9) Arena Rock, 10) Point Counterpoint


Southern Steel begins what will remain a solid lineup for The Steve Morse Band. This is an overall good effort with some very fresh songs and some that sound like they are leftovers from other albums. In particular, Sleaze Factor and Weekend Overdrive sound as though they could have been on The Introduction, while Vista Grande sounds as if it could be from High Tension Wires. Simple Simon, Wolf Song, and Point Counterpoint are all good tracks here as well. And consistent with that certain type of Morse humor is Arena Rock, which sounds very much like any generic, sell-out mid 80s rock tune.


---
1992
Line-up: Steve Morse - Guitars

Dave LaRue - Bass Guitars

Van Romaine - Drums

Produced by: Steve Morse and Dave LaRue






The Songs: 1) User Friendly, 2) Collateral Damage, 3) Get It In Writing, 4) Morning Rush Hour, 5) Runaway Train, 6) Long Lost, 7 The Circle Z, 8) Over Easy, 9) Cabin Fever, 10) Flat Baroque

Coast To Coast is a good solid record, but it starts to become a bit tried and familiar. While each song is good it sounds a little like Steve has found a formula here. Some good tunes, however, include Runaway Train a southern-styled tune in the Dregs vein, Get It In Writing a softer more mellow piece, and the excellent picker, Flat Baroque.

---
1995
Line-up: Steve Morse - Guitars
Dave LaRue - Electric Bass

Van Romaine - Drums & Percussion

Produced by: Steve Morse and Dave LaRue
The Songs: 1) Sacred Ground, 2) good To Go, 3) Dreamland, 4) Barbary Coast, 5) Smokey Mountain Drive, 6) Slice Of My Time, 7) Native Dance, 8) Just Out Of Reach, 9) Rally Cry, 10) Foreign Exchange, 11) Structural Damage

This disc seems familiar. Most of the songs are good, but nothing really stands out. Many of them are somewhat slower. It also seems that the guitar work here is somewhat strait forward and not real risky. A few songs to listen for include, Smokey Mtn. Drive, with a real good southern pickin' style, and the quiet, Slice of Time. Structural Damage is a real safe, but good record.

---
StressFest
1996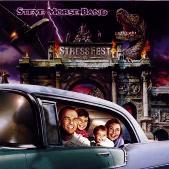 The Songs: 1) StressFest, 2) Rising Power, 3) Eyes Of A Child, 4) Nightwalk, 5) Brave New World, 6) 4 minutes To Live, 7) The Easy Way, 8) Glad To Be, 9) Delicate Balance, 10) Live To Ride
The best thing that can describe this disc is Fresh! This is a completely fresh sounding album compared to Steve's last two or three. It seems that some songs are drawing influence from his new Purple experiences. StressFest and Brave New World are both a bit heavy and crunchy tracks. Live to Ride has a real blues feel to it, which is fresh. Delicate Balance is a slow, quiet song like others Steve has done in the past. The real gem here is 4 Minutes to Live. This song has a drum beat that sounds like a beating heart, which sets the tone for a very emotional bit of playing. All in all this is a much better disc than the last two discs.

---
Power
1986
The Songs: 1) Silhouettes In Disguise, 2) Power, 3) All I Wanted, 4) Secret Service, 5) Were Not Alone Anymore, 6) Musicatto, 7) Taking In The View, 8) Three Pretenders, 9) Tomb 19, 10) Can't Cry Anymore

This album and the '88 release "In The Spirit of Things" are largely a waste of Steve's talents. These are even poor by Kansas' standards. This seems lost in some "power-pop", AOR style that missed the charts. The only 2 songs worth listening are, Silhouettes in Disguise and Musicatto, which you can actually tell it is Steve playing guitar.


---
1988
The Songs: 1) Ghosts, 2) One Big Sky, 3) Inside of Me, 4) One Man One Heart, 5) House of Fire, 6) Once In A Lifetime, 7) Stand Beside Me, 8) I Counted On Love, 9) The Preacher, 10) Rainmaker, 11) T.O. Witcher, 12) Bells of St. James

Again this also seems a waste of Steve's guitar skills. There is hardly any here. House of Fire, The Preacher, and T.O. Witcher are OK with some hints of the axe in it but both of these records are best left in the used bin at your local record store, where they can be sampled and put back (that's what I did!).

---
Boots and Misc. Other Stuff
Sex, Dregs & Rock 'n' Roll
6/19/79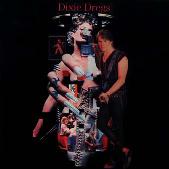 The Songs: 1) PatchWork, 2) Night of the Living Dregs, 3) Night Meets Light, 4) Punk Sandwich, 5) Cruise Control, 6) Take It Off The Top, 7) Disco Rhythm, 8) Gina Lola Breakdown, 9) Odyssey

This is a "live" disc pressed in Italy by Minotauro Records. It claims to have been recorded on 6/19/79 in New York at "My father's place". The overall quality is good and is in stereo, I think. Most of the material is from around Night of The Living Dregs. Take It Off The Top is a strait forward with some jamming in the middle. Disco Rhythm is some good fun, Dregs style. The gem here by far is Gina Lola. This is just an all out jam/war. This disc is worth it just for the one track! The nice thing about this disc is that the song selection is out of the way a bit and not just a greatest hits.

---
AMD Free Wave Jam
1995
Composed and produced by Steve Morse
This is a single song found on a CD distributed by Advanced Micro Devices, promoting their InterWave audio processor for the PC. Other artists on this CD include Jan Hammer, Keith Emmerson and Thomas Dolby. It is recorded using MIDI wavetable synthesis on a Interwave processor-based sound card, mastered directly to CD. Morning Star is a soft melodic track that does sound a bit out of the ordinary for Steve since it is entirely MIDI based.

---
Send comments or criticisms to Hans Eilers