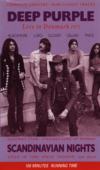 Scandinavian Nights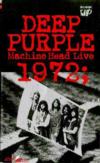 Machine Head Live


Japanese DVD


Japanese Laser Disc
People: Ritchie Blackmore (gtr), Ian Gillan (vcl), Roger Glover (bss), Jon Lord (kbr) and Ian Paice (drm). Produced by Tony Edwards.
Recorded live by Danish TV on 1 March 1972 in Copenhagen. The video sleeve claims this to be recorded at the Tivoli Koncertsal. This is wrong, it was recorded at a place called KB-Hallen.
Note that this has been released with two separate titles.
CONTENTS
Highway star (Blackmore/Gillan/Glover/Lord/Paice) 6.24
Strange kind of woman (Blackmore/Gillan/Glover/Lord/Paice) 8.55
Child in time (Blackmore/Gillan/Glover/Lord/Paice) 16.34
The mule (Blackmore/Gillan/Glover/Lord/Paice) 8.55
Lazy (Blackmore/Gillan/Glover/Lord/Paice) 10.38
Space truckin' (Blackmore/Gillan/Glover/Lord/Paice) 21.39
Fireball (Blackmore/Gillan/Glover/Lord/Paice) 4.04
Lucille (Collins/Penniman) 5.31
Black night (Blackmore/Gillan/Glover/Lord/Paice) 5.54