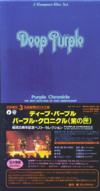 A compilation containing materials by Mks I, IIa, III & IV.
This album came in a box with a poster, a sheet with five DP-stickers, and a booklet containing various pics, a history of the band written in Japanese plus a discography. The third CD is titled Singles & Unreleased Side, but it does not contain any unreleased stuff, just some single edits. Simon Robinson of the DPAS warned collectors for this in the November 1993 issue of Record Collector.
TRACK LIST
Album Side, Part 1
Hush 4.21
Mandrake root 6.03
Hard road 5.13
That is, "Wring that neck" for the Europeans.
Kentucky woman 4.44
Anthem 6.29
Speed king 4.18
This is the US album version which lacks the introducing Woffle.
Child in time 10.15
Into the fire 3.29
Fireball 3.21
Strange kind of woman 4.04
Highway star 6.05
Never before 3.56
Lazy 7.19
Album Side, Part 2
Smoke on the water 5.40
Space truckin' 4.31
Woman from Tokyo 5.50
Burn 6.00
Might just take your life 4.36
You fool no one 4.47
Mistreated 7.25
Lay down stay down 4.15
Stormbringer 4.03
Lady double dealer 3.19
Soldier of fortune 3.14
Comin' home 3.52
Love child 3.05
Medley 6.07

This time around
Owed to 'G'

You keep on moving 5.18
Singles & Unreleased Side
Black night 3.28
Single edit.
Black night 4.56
Live version recorded in Japan 1972.
When a blind man cries 3.26
B side to "Never before" & "Lazy".
I'm alone 3.04
B side to "Strange Kind of Woman".
Painted horse 5.16
Leftover track from the Who Do We Think We Are sessions in 1972.
Cry free 3.10
Leftover track from the In Rock sessions in 1969/1970.
Speed king 5.48
Full European album version (including the Woffle).
Speed king 4.59
Edited version; lacks Ritchie's intro.
Demon's eye -.--
This track appeared on the European version of Fireball but not the Japanese and US.
Highway star 2.58
Single edit. Heavy cut! The original album version is over 6 minutes.
Smoke on the water 3.48
Single edit.
Smoke on the water 4.34
Single edit of the Made in Japan version.
Lazy 2.40
Single edit. The original album version is over 7 minutes!
Woman from Tokyo 2.56
Single edit.
Burn 3.42
Single edit.
Burn 4.45
Another edit - but where is it from?
Coronarias redig 4.50
B side to "Burn".
Emmaretta 2.58
Non-album single track recorded in 1969.