YES, I LOVE TOMMY!
REGISTER ME WITH THE ARCHIVES. IT'S FREE!
If you're one of the tens of thousands who love the music of TOMMY BOLIN, go ahead and register your existence with the official TOMMY BOLIN ARCHIVES, Inc. the only Bolin family co-owned entity dedicated to honestly and legally preserving, protecting, defending, and promoting the music of TOMMY BOLIN. You will receive word of upcoming annual ARCHIVES ONLY CD releases that only those registered with the Archives can buy, future Rhino releases, and other Tommy news.
NAME...........................................
ADDRESS...............................................
CITY.................
STATE........ZIP...........HOME PHONE.....(..........)..............-..............
Mail or Fax this card to register!
MAIL TO: P.O. Box 11243, Denver, Colorado 80211.
FAX TO: 303-455-3040

---
THE TOMMY BOLIN ARCHIVES, Inc. officially formed; Multi-release deal signed with RHINO RECORDS.

Tuesday, November 28, 1995

Contact: Mike Drumm
TBA, Inc.
303-455-5096

Denver, Colorado---Recently, The late Tommy Bolin's brother, John Bolin, Tommy's sole surviving immediate relative, helped form a new company, THE TOMMY BOLIN ARCHIVES, Inc. to officially gather together all of Tommy Bolin's recorded musical works, and systematically release the music to the public in the highest quality possible. The other partners in the Archives are Mike Drumm, of Music Link Productions in Denver, and Barry Simons, and David Stein of the SIMONS & STEIN Entertainment law firm of San Francisco. Immediately after the ARCHIVES was formed, a three album deal for North America was signed with the foremost archival and re-release label in the world, RHINO RECORDS. The first album, TOMMY BOLIN: FROM THE ARCHIVES, VOLUME 1, will be released January 23, 1996 through the W.E.A. distribution system to CD stores nationwide. The album will contain 13 previously unreleased tracks recorded between 1971 & 1976. The collection will contain band demo recordings, live recordings, and solo acoustic song demos that aptly demonstrate both Bolin's dominating cutting edge guitar techniques, and his often overlooked song writing

talents. The collection helps remind us that Bolin was a compelling, brilliantly creative musical talent.

TBA, Inc. will continue to gather Tommy's music, and prepare releases for both RHINO RECORDS, and private releases available exclusively through mail order.
---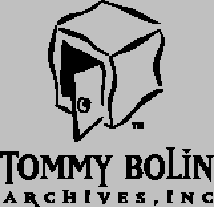 TOMMY BOLIN BIOGRAPHY
When Tommy Bolin died in Miami Florida, on December 4, 1976, an amazing musical legacy had already been created. At the age of 25, Bolin had proven to those in the know that he was one of the most brilliantly creative guitarists of his era. The only thing missing was mass adulation. Had he lived, Bolin would have achieved the notoriety his musical gift deserved. Now, with the pending January 23, 1996 release of TOMMY BOLIN: FROM THE ARCHIVES VOLUME 1 on RHINO RECORDS, Bolin's place as one of the early seventies brightest musical lights will be further established. The 13 previously unreleased tracks on the collection showcase some of Bolin's most dynamic guitar work through band demo tracks from ENERGY, to live recordings of various Bolin Band lineups. The album also displays a more intimate side of Tommy's muse through the inclusion of rare acoustic song demos. These tracks were all recorded between 1971, and 1976, and help prove the point of how prolific Bolin was in a very short period of time.
Bolin's first claim to international fame came when he helped form ZEPHYR, the seminal Colorado psychedelic rock band in 1968 at the tender age of 17. Even at that young age, Bolin was already in possession of tremendous technique and power in his guitar playing. A veritable musical sponge, Bolin was one of the first to thoroughly absorb the creative concept of Jimi Hendrix's playing. Unlike later Hendrix "clones" Tommy absorbed the lessons of Hendrix's use of electronics in his own way, developing his own signature style. ZEPHYR, with Tommy on board, recorded and released two albums ZEPHYR released in 1969 on ABC/PROBE. (now available on CD), and GOING BACK TO COLORADO release on WARNER BROS. in 1971 (now available on CD) Shortly thereafter, Bolin quit ZEPHYR due to creative differences. The band, which over the next ten years would continue on with various guitar players, would never recover the momentum it lost when Tommy left.
Immediately after leaving ZEPHYR, Bolin formed ENERGY. Initially an all instrumental ensemble, the band was Bolin's all time favorite group. Eventually long time Bolin friend and lyricist Jeff Cook joined as the band's vocalist. Despite the bands obvious power, the group struggled commercially because ENERGY manifested most all of Tommy's burgeoning creative improvisational impulses. Also during this period, Tommy traveled to New York to participate on sessions and in live gigs with many of the most talented members of the New York Jazz Fusion scene. Some of Tommy's most amazing playing can be heard in sessions he performed with the likes of JEREMY STEIG, JAN HAMMER, GENE PERLA, and BILLY COBHAM. Listening to his creative output during this period, highlights of which are contained on the new RHINO CD, it is amazing to think that ENERGY could never get a record deal, or achieve national fame. Accordingly, all members of the group were living near or below the poverty line. With expectations deservedly high as to what Tommy's career could be, Bolin took what would turn out to be the first of two "hired gun" gigs designed to supplement Tommy's meager income, and help establish his reputation on a national platform. THE JAMES GANG, struggling to keep their fans with JOE WALSH's guitar replacement in the band, DOMINIC TROIANO, took Joe Walsh's recommendation and offered Tommy the guitar-songwriter slot.
On board with THE JAMES GANG, Tommy took the inventory of songs he had developed in ENERGY and contributed them to two albums BANG, and ironically enough MIAMI. (Both available on CD) However, Tommy was uncomfortable in THE JAMES GANG. After all it was a pre-existing band that he was not actually in control of. Come 1974, Tommy had quit. If nothing else, Tommy's experience in THE JAMES GANG helped him develop a tighter more commercial approach to his music that would help him to better "fit in" to the demands of the music business. These lessons would be manifested on his own forthcoming solo albums.
After THE JAMES GANG, Tommy was ready to finally develop his own solo career. He began the process of recording demos, acoustic and band versions, highlights of which are contained on the RHINO CD. However, money, or the lack of it, was still an issue. At the same time, RICHIE BLACKMORE had quit DEEP PURPLE at their peak of world wide fame. Unlike Tommy, or even THE JAMES GANG, Purple was commercially huge all over the world. The remaining members of the band were truly in despair with Blackmore's exit, and were tempted to quit entirely. However, a jam was arranged between the band and Tommy that literally blew the minds of all Purple members. Tommy was actually in possession of more technique and creativity than Blackmore! Purple had their guitar player, and Tommy had a paycheck and a world wide platform to establish his name. During the period Tommy was in Purple, he secured (at last) his long awaited solo deal with Nemperor Records, which resulted in the classic album TEASER (currently only available on import). Before the diverse TEASER album came out, Tommy contributed most of the music and all guitars to DEEP PURPLE's COME TASTE THE BAND studio album, (available on CD) his only Purple studio effort. While an effective DEEP PURPLE album, the difference in the musical platforms was obvious. Purple had a "sound" that Tommy needed to adapt himself to. The TEASER album however, is a delightful mix of various styles, all featuring Tommy as writer, arranger, guitar player, singer and producer. At last, Tommy had all the elements in his control. The results were obvious. Tommy was on his way to international solo fame. The Purple experience however, truly was a mixed bag for Tommy. While he did indeed tour the world, and establish himself to thousands of Purple fans, his increased income, and exposure to the kinds of hangers-on that surrounded mid-seventies rock super groups enabled him in relation to his accelerating usage of drugs and alcohol. This, along with other factors, led to Tommy's last year being an emotional, personal and business roller coaster.
Come the spring of 1976, Tommy had quit DEEP PURPLE and finally formed his own solo group THE TOMMY BOLIN BAND. The band went through various members in it's short life. In six months Tommy played with a who's who of talented musicians including the likes of NARADA MICHAEL WALDEN, REGGIE McBRIDE, MARK STEIN, NORMA JEAN BELL, JIMMY HASLIP, MAX GROENTHAL, MARK CRANY, BOBBY BERGE and brother JOHNNIE BOLIN. The ever changing line-up was both a statement of Tommy's inspirational talent, and the topsy turvy dynamic of his lifestyle. Many nights, the band was incredible. Some nights, not. During the summer, Tommy recorded his second and last solo album PRIVATE EYES for COLUMBIA. (available on CD)
The album was recorded in a much shorter period time than TEASER, and is less diverse, but still contains strong versions of great Tommy songs including the ironic guitar workout POST TOASTEE.
The band toured throughout the year with a mid fall break. With a tour lined up for early 1977 with FLEETWOOD MAC, Tommy also accepted a late 1976 stint as the opening act with THE JEFF BECK GROUP, which included musical buddy Jan Hammer. The first night of the tour in Miami, December 3, 1976 would be Tommy's last performance. After the show, even with the presence of a bodyguard whose preported job was to keep Tommy safe and clean, Bolin overdosed on a combination of drugs and alcohol. After he passed out, more than a few hours passed before the paramedics were called. By then, it was too late.
In 1989, through the efforts of GEFFEN RECORDS, TOM ZUTAUT, WILLIE DIXON, AND JOHNNIE BOLIN, TOMMY BOLIN: THE ULTIMATE box set was released on Geffen Records. The set, while being a delightful tribute and musical overview of Tommy's recorded works, carried but one previously unreleased track. Thousands of Bolin fans continued to wonder what had become of Tommy's long rumored personal musical archives. In 1995, THE TOMMY BOLIN ARCHIVES, Inc. was formed by JOHNNIE BOLIN, MIKE DRUMM, BARRY SIMONS, and DAVID STEIN to answer those questions with a systematic release of Tommy's rich unreleased musical legacy. Soon thereafter, a deal was struck with RHINO RECORDS to put out a three CD series. Tommy may be gone, but his music definitely will live on.
---
Tommy Bolin
From The Archives: Volume One
1. Wild Dogs (4:50)
(Tommy Bolin/John Tesar)
Solo Acoustic Demo recorded in 1974. Personal Archives.
2. Red Skies ` (6:35)
(Tommy Bolin)
ENERGY, Tommy Bolin Guitar, Stanley Sheldon, Bass, Bobby Berge, Drums, Gary Wilson, Vocals, Thom Stephenson, Keyboards, Recorded in 1972, Western Cine, Denver
3. Evening Rain (4:05)
(Tommy Bolin)
Solo AcousticDemo, Recorded in 1974. Personal Archives.
4. Sister Andrea (7:35)
(Jan Hammer)
Jeremy Steig Demo, Jeremy Steig, Flute, Tommy Bolin, Guitar, Jan Hammer, Keyboards,
Gene Perla Bass, Billy Cobham, drums. Produced and Engineer By Eddie Kramer. Recorded in 1971, Electric Lady Studios, New York City.
5. Heart Light (4:31)
(Tommy Bolin)
ENERGY, Tommy Bolin, Guitar, Stanley Sheldon, Bass, Jeff Cook, Vocals, Bobby Berge, Drums, Thom Stephenson, Keyboards, Recorded in 1972, Jackson Sound, Denver. Colorado.
6. Teaser (3:38)
(Tommy Bolin/Jeff Cook)
Solo Acoustic Demo, Recorded in 1973, Personal Archives.
7. You Know, You Know (5:30)
(John McLaughlin)
Tommy Bolin and Friends Tommy Bolin Guitar, Stanley Sheldon, Bass, Bobby Berge, Drums, Russell Bizet, Drums, Archie Shelby, Percussion, Recorded live in June 1974 at Ebbetts Field, Denver, Colorado.
8.. San Francisco River (4:45)
(Flora Purim)
Tommy Bolin and Friends Tommy Bolin Guitar, Stanley Sheldon, Bass, Bobby Berge, Drums, Russell Bizet, Drums, Archie Shelby, Percussion, Recorded live in June, 1974 at Ebbetts Field, Denver, Colorado.
9. Meaning Of Love (3:05)
(Tommy Bolin)
Solo Acoustic Demo, Recorded in 1974. Personal Archives.
10. Shake The Devil (5:49)
(Tommy Bolin/Jeff Cook)
The Tommy Bolin Band, Tommy Bolin, Guitar, John Bolin, Drums, Norma Jean Bell, Saxaphone, Percussion, Jimmy Haslip, Bass, Mark Stein, Keyboards. Recorded Live for The KING BISQUIT FLOWER HOUR, September 20, 1976, Albany, New York.
11. Crazed Fandango (6:41)
(Tommy Bolin)
Unreleased Instrumental. Tommy Bolin, Guitar, Stanley Sheldon, Bass, Michael Brecker, Saxaphone, Dave Sanborn, Saxaphone , Narada Michael Walden, Drums. Recorded at Electric Lady Studios, New York City, July 1975.
12. Jump Back (4:50)
(Tommy Bolin)
Solo Acoustic Demo, Recorded in 1974, Personal Archives.
13. Wild Dogs (5:05)
(Tommy Bolin/John Tesar)
Brothers Studio Demo. Tommy Bolin, Guitar, Stanley Sheldon. Bass, Ricky Fataar, Drums, Al Kooper, Synthesizers. Recorded at Brothers Studios, Santa Monica, California, 1974
---
SONG DESCRIPTIONS

1. WILD DOGS

This acoustic demo version of one of Tommy's best known tunes captures a totally different feeling than the TEASER album version, proving that trimmed down acoustic Tommy can also be compelling.

2. RED SKIES

This early demo recording by Tommy's favorite all time band, ENERGY, helps to establish the absurdity of the bands inability to ever get a record deal. The fusion style in the instrumental attack, along with the vocal by short term band vocalist Gary Wilson make for a very memorable performance. Bassist Stanley Sheldon continues to this day to be blown away by this version.

3. EVENING RAIN

This overdubbed acoustic demo is one of many previously unreleased songs from Tommy's personal archives. It is a fine song, that showcases Tommy's under appreciated acoustic guitar chops.

4. SISTER ANDREA

This track is the beginning of Tommy's involvement with the New York Jazz fusion scene. The song was part of what was a Jeremy Steig session underwritten and produced by Eddie Kramer at Electric Lady Studios. Jan Hammer, who wrote the tune, feels that this version captures his intentions, whereas the version later covered by the Mahavishnu Orchestra never lived up to his expectations.

5. HEART LIGHT

A later demo by ENERGY continues to display the trademark sound of this great band, this time with longtime Tommy friend, and lyricist Jeff Cook on vocals.

6. TEASER

Another of the solo acoustic demos.

7 & 8. YOU KNOW, YOU KNOW & SAN FRANCISCO RIVER

Taken from a pick up date in 1974 at Denver's Ebbetts Field, with only Tommy on guitar, Stanley Sheldon on bass, and a three man percussion team. After hearing the track recently for the first time in over 20 years, Sheldon was awed by the power and fullness in the performance.

The guitar playing is indeed an awesome display of Tommy's improvisational prowess

9. THE MEANING OF LOVE

Another previously unavailable acoustic gem.

10. SHAKE THE DEVIL

Recorded live for KING BISCUIT FLOWER HOUR, this track confirms that despite constant personnel changes, and inconsistent reviews, the TOMMY BOLIN BAND was a very powerful musical team.

11. CRAZED FANDANGO

Originally meant for the TEASER album, this instrumental track is one of Tommy's all time hot fusion performances featuring a stellar supporting cast.

12. JUMP BACK

The last of the previously unavailable acoustic demo tapes from this set.

13. WILD DOGS

One of Tommy's earliest LA demos, the track is a true classic alternative to the TEASER album version.
---
Dave Hodgkinson 11 December 1995.